3D technologies in culinary arts: how is three-dimensional printing used in cooking?
05.09.2018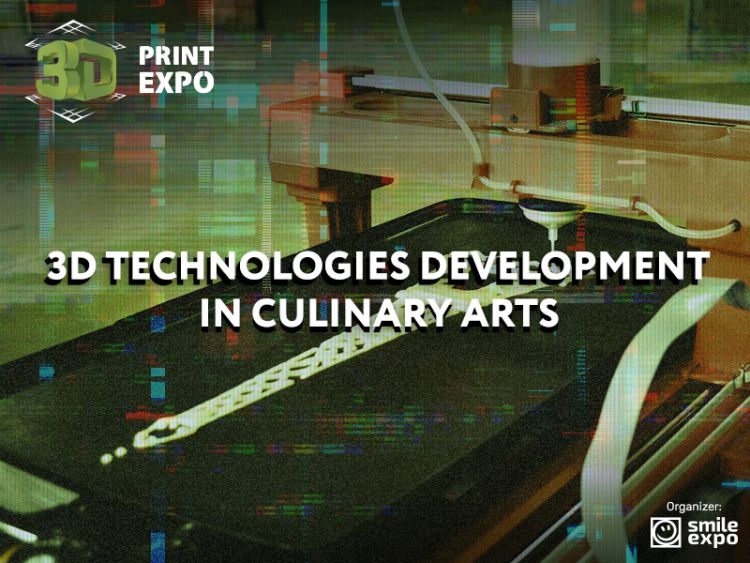 3D printing has been widely used for food preparing since 2015 when the U.S.-based company 3D Systems established the culinary innovation center in Los Angeles allowing to test, share own ideas and fulfill them using a 3D printer.
Since then, many cooks got to know about the emerging technology and its possibilities. Meanwhile, the developers across the globe continue improving such devices as well as searching for new materials to create culinary chef-d'oeuvres.
3D printing from nanocellulose products
The scientists at the Hebrew University of Jerusalem developed the 3D printing technology of dishes from natural non-caloric fibers.
Nanocellulose is a dietary material used for a new technology of food production. Besides, it's easily digested by a human. Nanocellulose is packed in cartridges with nutrients, and a 3D printer produces dishes of various types. They are processed by an infrared laser that designs dishes of any form.
Smart food for a balanced diet
The South Korean researchers at Ewha Womans University even took a step further. They designed a 3D printer capable of creating dishes from powder materials.

How does it work? The needed microelements and nutrients are crushed to powder, then heated becoming an indiscrete mass in the form of a film. A 3D dish is printed layer by layer. The innovation of this method lies in the possibility to combine the content of useful elements in a product as well as carry out experiments with tastes.
3D printed pizza for NASA
The news about NASA's financial backing of the development of a 3D printer for space food spread in 2013. Moreover, in 2017, BeeHex created a device for NASA allowing to prepare a pizza on board spacecraft. The project was supported by the U.S. authorities having allocated $1 m. On Earth, the version called Chef 3D will be available.

The possibilities a 3D printer exposes for working with completely different materials and еру creation of unique forms give free rein to the culinary arts. Particularly, in terms of the molecular gastronomy where unusual forms and ingredients proportion are of a big importance. One of the devices for molecular dishes printing Food Creation was developed by Philips Design. It allows to manage nutrition value and design the most original forms.
Modern food printers are available not only for the industrial use and companies but also for household use. The application of additive technologies in culinary arts makes a food preparation process simple and fast. One can effortlessly check its content and even program.