Additive manufacturing: types of raw materials for 3D printing
04.10.2017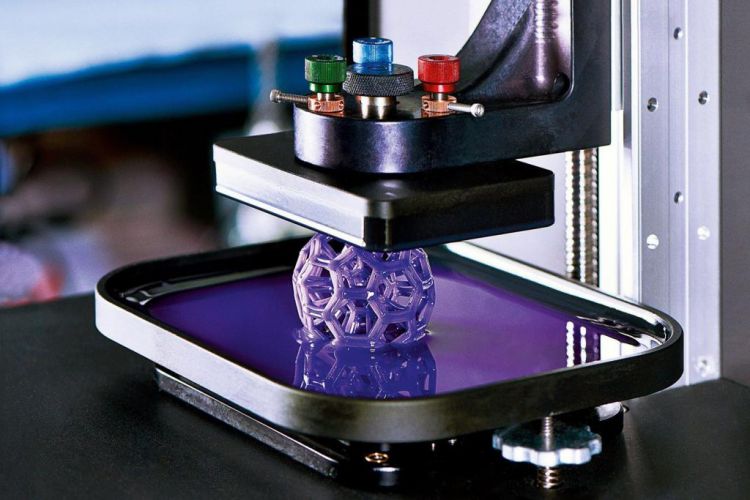 Three-dimensional printing (additive manufacturing) has managed to turn from a rapid prototyping method into a comprehensive technology. It has opened new prospects for both the industrial sector and the household production of various items.
What is the concept of 3D printing?
Additive manufacturing is a process of creating solid three-dimensional objects using a prepared CAD model. Off-the-shelf goods can have different physical characteristics depending on applied printing materials.
Classification of 3D printing technologies by key materials:
liquid;
dry;
thread-like and rod-shaped;
sheet and film filler.
Liquid printing materials

Liquid raw materials include light curing acryl resins, becoming solid due to the light illumination. They are used for such printer types as SLA, DLP, MJM, and PolyJet. Final products feature high detailed elaboration and surface smoothness.
Dry 3D printing materials
Dry materials include sands, polymers, and metal powders. Quartz, zirconia, ceramic, and chromized sands are primarily used for printing metal casting forms. Such a kind of printing is applied in ExOne Binder Jetting printers.

Dry polymers are polyamide, polystyrol, polymethyl methacrylate etc. They are used in industrial laser SLS printers, creating items with special characteristics: flexible, solid, firmness to temperature changes and damage.
Metal powders are divided into aluminum, copper, titanium, silver, chrome and cobalt ones etc. The most popular way of printing with such materials is the application of SLM printers. These additive technologies are mostly applied in the engineering manufacture.

Thread-like and rod-shaped consumable materials
Such materials are divided into polymers and metals. It is ABS and PU polymers that are commonly used in FDM printers now. Metal wire printing is a more specific type of additive manufacturing. This very method is considered to be the most prospective in the aircraft construction and space production.
Sheet and film filler materials
This kind of materials are also divided into polymers (PVCs) and metals (foil paper, flat steel). It is applied less commonly than other materials, and printers designed for this very type are a rare phenomenon. In general, such a printing option is additional similar to the ZMorph 2.0 SX device.
Beyond classification
There are also materials besides the key classification that are used more and more often. Additive technologies in the building industry prove this trend. For instance, developers worldwide are working on efficient 3D equipment for concrete printing.
Andrey Rudenko from Minnesota has been one of enthusiasts to print the concrete castle in the yard. Currently, Denmark-based 3D Printhuset is engaged in three-dimensional printing of the first building that will correspond to all EU norms and standards.
Learn more on 3D Print Expo