Best 3D Model Competition "Your style of 3D Printing" (WORKS ARE INVITED)
09.12.2013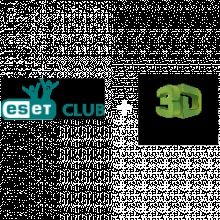 Dear friends!
ESET CLUB acts as media partner of 3D Print Expo - exhibition of advanced 3D printing technology to be held February 13-14, 2014, in ECC "Sokolniki", Moscow - and invites you to take part in creativity competition "Your style of 3D Printing".
To participate in the contest one shall show his talent and imagination and create 3D model for 3D printing.
Organizers and Internet users will choose three best works; at 3D Print Expo these works will be printed by 3D Printus and presented to authors. Models will be printed from durable and flexible colored plastic – which is a great material for any 3D designer, as it allows to create fantastic things (examples).
Winners will get tickets to business conference held in the framework of 3D Print Expo, where they can get relevant information on application of 3D technologies. Another three prize winners will get invitations to 3D Print Expo. For more information about our event please check our event calendar.
HOW TO SUBMIT:
To participate, you need to login at ESET CLUB website and place your work in competition section by clicking button "Participate" (you will find it at the bottom of the rules). In case you want to download several models, download every image separately. One participant can submit 3 works max.
Make sure to place your full name and contact information.
At the acceptance stage this is enough to load only image of the model (you can add brief description). After the winners are decided, contest winners will email us other details needed for 3D printing. One can also pay attention to technical requirements for 3D printing:
3D model in STL format

Max size of one piece - 200x250x330 mm

Layer resolution - 0.2 mm

Minimum wall thickness - 1 mm
We do not limit the imagination of participants (except models size) - and subject of the works is of your choice. Works shall be quality, interesting and shall not infringe any copyright.
DECIDING WINNERS
10 finalists will be chosen by organizing committee of the exhibition, under the following criterion: originality, artistic value, feasibility.
Works selected will be presented for voting in social networks accounts of ESET:
www.odnoklassniki.ru/nod32,

vkontakte.ru/nod32,

www.facebook.com/ESETNOD32Russia,

and in social networks accounts of 3D Print Expo:

www.facebook.com/3DPrintExpo,

vk.com/3dprintexpo,

twitter.com/3dprintexpo
Winners will be determined by summary counting of votes in three social networks.