Chinese man who lost half of his skull after fall will have it rebuilt with 3D printed mesh
03.09.2014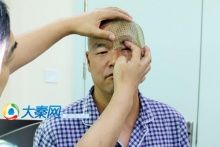 Today is a very special day for the 46-year-old Hu from Beijing, China. For, some ten months after a horrible accident that left him several disabled and unable to speak or write, he will undergo surgery to repair his skull and to start regeneration of his severely damaged brain tissue. Crucially, a titanium mesh cover will be placed on his brain, that was especially printed using 3D printing technology.
Hu was working on a construction site, when the house he was in partially collapsed on top of him. He was struck in the head by a supporting beam and, unconscious, fell down from the 3rd floor. As can be seen in the photography, the accident severely depressed the left side of his skull. Hu was diagnosed with post-traumatic skull defects, including cranial deformity, traumatic aphasia, diplopia, limited motion functions and ptosis in his left eye that reduced his vision to near blindness, and could lead to full and permanent blindness. He also can't speak or write, suggesting that the language centre in his brain is also extensively damaged. He can still consume food, walk and understand people, but needs his wife to interpret him.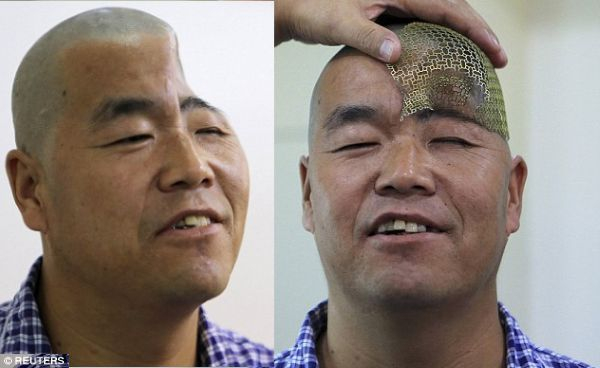 According to, Professor Shu Maoguo at the Xijing Hospital in Beijing, this case of large cerebral depression is rare, severely debilitating and very difficult to remedy, but recent advances in surgical knowledge and 3D printing technology could save Hu from this terrible condition. Dozens of experts have been brought in to study and discuss the case, and they have decided to reconstruct his skull with a 3D print of a titanium mesh brain cover. Fortunately, his surgery costs will be waived and a U.S.-based company will contribute materials and cover the cost of printing the mesh.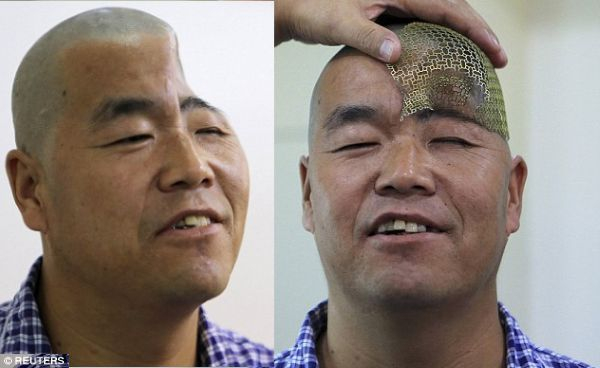 Today is D-Day for Hu. As his scalp and meninges have bonded closely after the impact, these will have to be carefully peeled apart to avoid damage to his brain tissue before the titanium mesh can be implanted. There is still a chance that this mesh will be rejected by his body, so this
process must be carefully monitored. If necessary, doctors may also use muscle tissue from Hu's back to help prop up the titanium mesh cover. It will likely be a long surgery.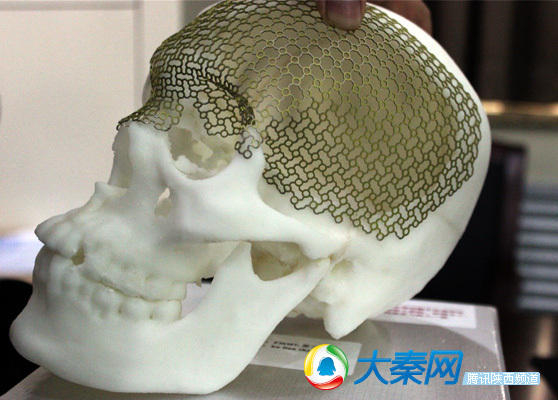 If the doctors are successful, this reconstruction of his skull will not only improve Hu's appearance, but some brain tissue is also expected to regenerate. This could lead to a (partial) recovery of sight and his language and writing functions.
This isn't the first time 3D printing is used in unique medical cases, and it won't be the last. See, for instance, this recent case of facial reconstruction for a cancer patient. More and more hospitals are looking to this technology, as it allows doctors to print exactly fitting implants for their patients or even models on which to practise a particularly difficult surgery. Especially titanium is being used more often to create such implants, as it is rarely rejected by the body, durable and relatively easy to attach to a patient's bone structure. It is therefore more reliable than traditional materials used for implants. We've earlier reported on similar cases featuring pelvic implants, both by English and Chinese doctors. In this case, the 3D printed implant can also ensure that Hu's skull will be completely symmetrical again. We can doubtlessly expect similar and more innovative applications of 3D printing technology in the near future.