Chocolate Happiness: Moscow to Host Most Unusual "Sweet" Festival
16.09.2014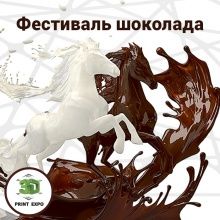 Chocolate printing is whole new form of art, used for garnishing cakes, courses, deserts etc. People love chocolate, but they also love everything new and interesting. 3D Print Expo helps everyone to immerse into chocolate art!
Thus, advanced three-dimensional printing technologies exhibition 3D Print Expo, which will take place on 23-25 of October, in ECC Sokolniki, welcomes "Chocolate Festival" demonstrating "sweet" 3D techniques. Exhibition provides a unique opportunity to meet chocolate art masters and explore amazing 3D technologies that create 3D models from chocolate.
DIY Life, ChocEdge and other popular companies on the market will be among festival participants.
Chocolate Festival will demonstrate world's first printer able to make chocolate prints. Choc Edge has been developed by British engineers. This 3D printer can create complex three-dimensional models, chocolate patterns and even write congratulations on cakes.
Event organizers have invited best chocolate masters to show chocolate 3D printing process and demonstrate the work of traditional chocolatiers while visitors would taste creations and compare human work with capabilities of modern technology.
The first exhibition day (October 23) will be the day for professionals and business representatives. That's why we recommend visiting for those who are interested in using 3D technologies for business. 24 and 25 of October are days for visitors, when everyone is invited to the event.
3D Print Expo shows you the world of chocolate craft. There's enough chocolate ink for everyone! Thanks to modern 3D equipment that can print out of chocolate, this feast of taste, fantasy and art will stay in your memory for a long time!