Dragonbite 3D Printed Stylus Aids Pens in Digital Design
10.04.2014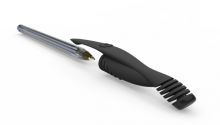 When I first read the email from Dinos Costanti about the work that he and his partner, Vangelis Hadjiloizou, were doing with their studio Lab02, I confused them for the Vangelis, Evangelos Odysseas Papathanassiou, and his one-time musical partner Demis Roussos. I thought, "Wow! The Greek pioneers of the electronic music revolution are getting into 3D printing?" Then, I found out that it was a different Vangelis and that 'Dinos' is not the same as 'Demis'. Ok, so it's not Chariots of Fire, but the Dragontip 3D-printed stylus is symbolic of a different sort of electronic revolution, that of electronic design.
The Dragonbite Stylus is a replacement cap for BIC Cristal pens that can be used for drawing on touch screen devices, as you can see from the video below. The cap has been, according to its designers, "ergonomically designed to maximize comfort and efficiency giving the user the experience of natural, free-flowing writing and drawing." 3D printed by Solid Concepts, the stylus is made from SLS carbon-filled nylon, more often used in the automotive and aerospace industries. The cap is also coated in a conductive elastomer, which protects a user's touchscreen.

So, you're an artist looking to transform your standard pen into a flexible, functional stylus. "How much is this thing?" you might be wondering. A single Dragonbite Stylus runs at € 18.65 (or about $26). Or, maybe you're a reseller, perhaps an art supply store that wants to get caught up with the modern design world. "Can I sell this thing?" you might be wondering. Order 20-49 styluses and you get a 10% discount. 50 or more and the discount shifts up to 15%. Plus, you'll get to alter the standard Dragonbite logo to your graphic of choice.
The Dragonbite Stylus is only the first item sent directly to market by Lab02. Produced and sold through their i.materialise store, Vangelis and Dinos also sell a 3D-printed pencil holder and a series of pretty darn cute attachments to modify the flashlight on your iPhone. You can also download Lab02′s Bat Signal, Ghost, Ninja, and Swan light clips to print them out yourself.