Dutch start-up Boulton launches DLP-SLA 3D printed eyewear on Kickstarter
09.07.2015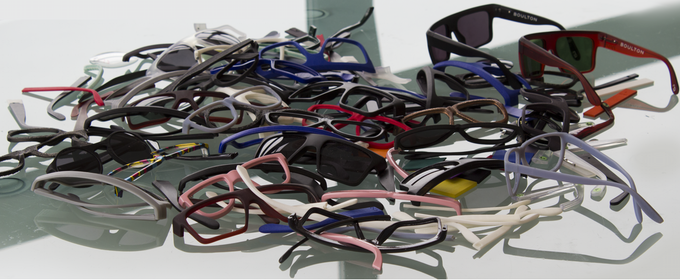 When it comes to some of the most effective uses for additive manufacturing, products such as custom-fitting prosthetics and one-off airplane parts certainly come to mind - but what about more simple cases such as consumer products?
While we've seen a wide range of 3D printed personal accessories ranging from jewelry to eyewear, only a select few really rise above the crowd as truly innovative uses of the technology and in more cases than not, utilize actual body scan data before creating a custom manufactured product.
Among others who have been actively exploring what's possible when using 3D scanning to create custom 3D printed products is Boulton Eyewear.
"Eyewear today is still mass manufactured and sold in standard sizes," says the company on their Kickstarter page.
"But our heads, noses and ears are not standard at all. They are unique. So are our personal styles and wishes. That's why we started Boulton Eyewear, the most personal eyewear brand in the world."

Aiming to create custom-tailored solutions for heads similar to how suits are created to custom-fit our bodies, the Boulton Eyewear team uses a process that allows users to scan their faces using their own phones rather than a dedicated 3D scanner. Once the company receives the photos, they then create a digital model of a user's face to reference for creating the final measurements of the 3D printed eye frames, which come in both sunglasses or prescription lenses in a variety of styles.

According to the company, they knew from the onset that desktop 3D printers didn't offer the type of quality that they were after for the Boulton Eyewear brand. Starting with an SLS 3D printer and creating over 70 prototypes and spending countless hours refining materials and finishings, the team determined that SLS just wasn't refined enough for their standards and that for their production models, DLP-SLA 3D printing would be used.
"We did a lot of prototyping on materials and types of finishings," says the founders.
"This time we were successful (with DLP-SLA); the material is strong and endures all conditions you will expect from any good quality frame (sweat, heat, flexibility, impact-resistance). The frames we sell today have a state of the art finishing by hand; some good old craftsmanship."

The team: Merijn, Tim and Rutger
The finished DLP-SLA 3D printed frames are certainly among the higher quality 3D printed eye frames that we've seen. Similar to most other eye frame manufacturers, the company outsources their lenses from a high-quality supplier who focuses on lenses and lenses only. Ultimately, this ensures that consumers walk away with the best possible lenses with a pair of frames that are meticulously designed. For Boulton Eyewear, the company chose to use custom made lenses that are made in Amsterdam.

"After production we assemble your tailor-made frame and custom-cut lenses at our office," explains the company. "At this time we also include a set of strong conventional hinges and add some artwork. The assembling process ends with our final quality check. Once that is done your eyewear is ready for shipping."
After almost two years in development, the Boulton Eyewear crew is ready to launch and are currently seeking funding on Kickstarter to put the frames into production. Currently, the team has raised a little over $3,000 with a campaign goal of $39,000 and three weeks left to go in their campaign. A DIY set for a pair of 3D printed frames starts at just $95.
"We are ready to show the world that eyewear can truly be personal, comfortable and accessible. Doing so we can definitely use your help battling some of the largest competitors in the world," adds the company.
"With your support we can actually change the way eyewear is made today!"