Exhibitor of 3D Print Expo: Erzay 3D Delta printer that uses liquid ceramics
27.09.2018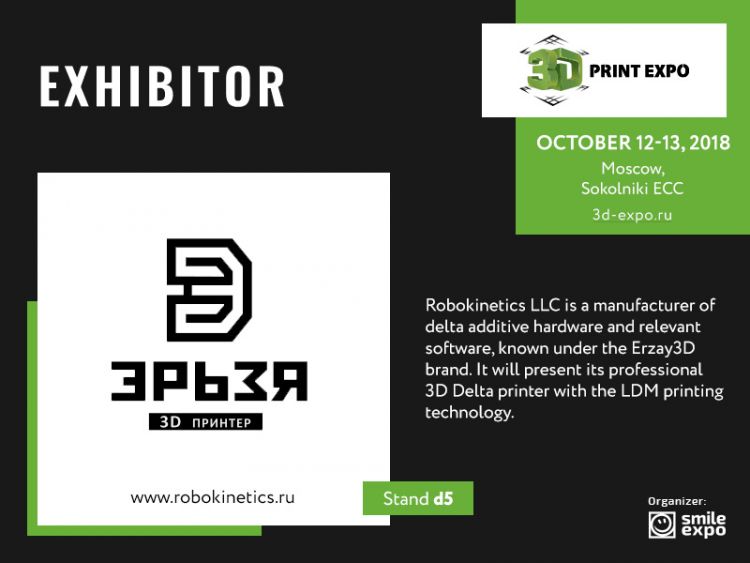 Erzay 3D printer that prints with liquid ceramics is the Russian product developed by Saransk engineer Aleksey Alekseev and the team of likeminded people. The inventor named the device in honor of his fellow-countryman sculptor Stepan Erzia. On October 12-13, attendees will see the device in action and assess the quality of printed models at 3D Print Expo held in Sokolniki.

Erzay creates ceramic dishes and ornamental objects with high quality of surface. It uses the Liquid Deposit Modeling technology. Paste-like ceramic blend is supplied to the extruder using the pneumatic system. Printing technique (layered) is the same as for the classical printer; the difference is only in the further processing of details: they are baked and covered with glaze to make them stronger.

Erzay line comprises several devices including printers printing with classical plastics, having one or several extruders. The most affordable device costs 39,000 rubles. According to Aleksey, the company aims to enter the global market and develop a product that will outperform competitors.
Developers are also planning to design their own extruder instead of WASP extruder that is currently used. The manufactory is located in Saransk (the Republic of Mordovia).
Apart from the ceramic printer, developers want to present the prototype of the innovative three-color printer with mixing extruder at 3D Print Expo.
---
Would you like to be the first to see the 3D printed equipment of the future? Attend 3D Print Expo! Tickets are cheaper if you buy them on the website.