Exhibitors of 3D Print Expo showed amazing 3D printing opportunities at VK Fest
22.07.2016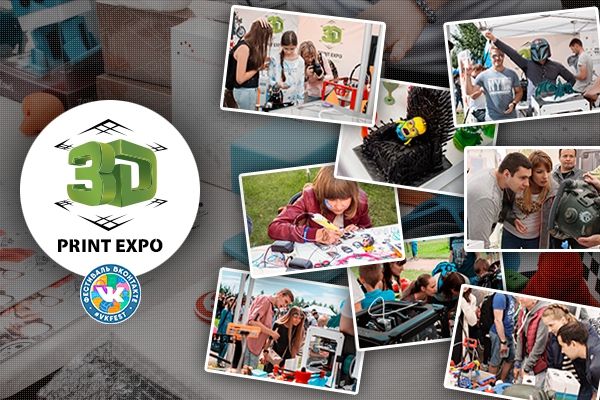 The largest Russian festival – VK Fest 2016 – is over. One can say for sure that the unique open air was beyond organizers' wildest imagination. The festival was attended by several dozens of thousand people and 400 interactive platforms were built. Performed at the event were such famous bands as Bi-2, Brainstorm, Assai, Animal Jazz, Nogu Svelo etc. And the innovation zone impressed and amazed event guests with exhibitors of 3D Print Expo, the CIS largest exhibition of 3D printing and scanning advanced technologies.
VK Fest created a really fantastic world where everyone was able to feel like a superhero or researcher of future technologies. Presented at 3D Print Expo were the best equipment for 3D printing and scanning in the world. Everyone could see how the most diverse 3D printers operate and learn how to create extraordinary items, using such devices.

Moreover, exhibition attendees obtained a lot of amazing gifts and souvenirs. For instance, Magnum conducted a drawing of 3D printed Millennium Falcon spacecraft from the popular Star Wars movie. The company also treated guests with 3D printed chocolate sweets with the festival logo and gave away wood cut blocks where unique laser engraving was made on.
NISSA Digispace team brought professional MakerBot 3D printers of the latest fifth generation equipped with in-built video cameras and Wi-Fi modules and showed print activation and control, using mobile applications. Nice fish keychains were given away to the smallest festival attendees. Surely those souvenirs were made with the help of additive technologies, as well. BQ presented the intelligent toy called Zowi that can dance and emit various sounds. Moreover, the reduced copy of this offbeat robot was given away to everyone who came to the stand.
Total Z guys demonstrated Anyform 3D printers that can be used in both everyday life and professional activity, showed and told about settings and special features of model and prototype printing.
3D Quality conducted for kids exciting workshops on drawing and 3D modeling. After completion of the useful lesson, each participant was able to print and take away items created with their own hands. Such souvenirs included minions, glasses, cakes and other nice stuff. The company also prepared the small exhibition of items created with 3D pens.
Within the festival, everyone could feel like a cool Fallout game character: they only had to get into the innovation zone, come to the Prinproduct stand and try on the exact replica of the power armor helmet. Almost everyone who put it on took souvenir photos.
IMPRINTA was printing souvenir snails and allowing everyone to make a photo in 3D printed minions' glasses. And girls, on top of that, were able to feel like princesses, putting on the glamorous crown.
Baltexim created a furor due to its 3D printed puzzles. People extensively collected big letters from small details and those who managed to solve difficult logical tasks and successfully solved a puzzle obtained pleasant gifts.
Due to exhibitors of 3D Print Expo, VK Fest 2016 innovation zone was really faery and exciting. And it was only a tiny bit of the exhibition opportunities! You can get acquainted comprehensively with a great potential of additive technologies at the official 3D Print Expo event that will take place at Sokolniki ECC on November 17-18. There will be a demo zone, workshops, show programme, business discussions as well as a chance to find new partners. This event will be definitely useful for those interested in additive technologies and want to use them for their own business development.