Establishing successful business in the field of 3D services? 3D Print Expo knows everything about it!
02.10.2014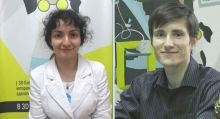 Nowadays, the world is ruled by modern technologies, and 3D printing is one of such technologies. More and more people are using this innovation for their business or personal needs. Are you interested in this? Then 3D Print Expo and conference is exactly what you need! This is the show that will demonstrate the latest news of 3D equipment and will tell everything about modern 3D printing!
At the conference held within 3D Print Expo tandem of experts of the company "3D plemya" - Asya Harutyunyan (expert in 3D modeling and printing) and Ivan Zaharchev (head of printing and technical support department) will tell how to start making money on 3D printing to have a good thing going and to get your place in the sun. Their report is called "Your first business. How to make money on 3D printing". It cover the main issues faced by newcomers in the field of 3D services. For example, self-determination in the market, choice of technology for 3D printing (pros and cons), advice on choosing the best equipment, and so forth.
Abstracts of the speech:
1. The concept of 3D printing as your own "household production";
2. Types of printing, consumables, possibilities and necessary investments within your own business;
3. FDM printing - the best choice to start business at home;
4. Working business model developed on the basis of a new printer UP!Box from the leader in the market of household FDM equipment - company TierTime;
5. Who to offer and where to use 3D printing?
And we remind that «3D Plemya» - is the exclusive distributor of the manufacturer of equipment for 3D printing UP!Plus in Russia and the CIS countries, that will present its products at 3D Print Expo for the second time.
Did not you make sure that 3D technology provides unlimited opportunities for creativity and it is great idea for business? If not, than 3D Print Expo is waiting for you!