An Expanded 3D Printing Application Base at Airbus
27.02.2014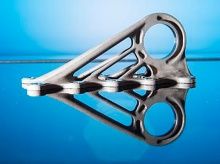 Airbus, a leading OEM of aircraft and part of the EADS family of aerospace companies, has long been one of the original pioneers utilizing 3D printing for industrial applications. The nature of aircraft manufacture demands years of testing and validation for any new manufacturing process and Airbus is now starting to reap the rewards of its early adoption of 3D printing in house and in collaboration with vendors, such as EOS. The benefits of 3D printing for manufacturing applications, particularly pertinent to aircraft, are the lighter yet stronger parts, this reduces onboard weight, and garners both cost and environmental rewards throughout the life of an aircraft. This together with shorter lead times, less material waste in production and a reduced manufacturing process environmental footprint have driven the advances with 3D printing at Airbus.
Right now there are 3D printed component parts flying on a range of the Airbus aircraft family, according to the company, including the next-generation A350 XWB and in-service jetliners as well as the cornerstone A300/A310 planes.
Peter Sander of Airbus clarifies: "We are on the cusp of a step-change in weight reduction and efficiency – producing aircraft parts which weight 30 to 55 per cent less, while reducing raw material used by 90 per cent. This game-changing technology also decreases total energy used in production by up to 90 percent compared to traditional methods."
However Airbus is now also developing new tangents from its 3D printing work. The company reported recently that it is now also working towards spare part solutions with the technology, which, it says, is ideal for producing cost-effective out-of-production aircraft spare parts on-demand. This month, the first "printed" component of this nature – a small plastic crew seat panel – flew on an Airbus customer jetliner: an A310 operated by Canada's Air Transat.
Sander said that the lead time for such a part produced using 3D printing can be as little as one day, if the component is based on an existing design, while redesigned parts can be produced in less than two weeks.
That's the reality as it stands today, but looking to the future, the company has even bigger plans, according to Sander at least, who believes the applications of 3D printing technology in aircraft component manufacturing are only just beginning to be realised.
In the future he sees a scenario whereby: "The aircraft of the future will have a 'bionic' fuselage, composed of complex parts printed using additive layer manufacturing."