Festival of Scientific and Engineering Creativity— Makeit! Show
03.07.2014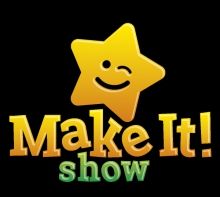 A unique festival for the whole family, where everyone can see the miracle machines for 3D printing and their creations, will be held for the first time in Russia on August 30-31, 2014! Russia will play host for a festival of Do-It-Yourself format.
Make it! Show is a festival of scientific and technical creativity and a huge platform for innovation, invention and creativity!
Come to the festival to find out what 3D printing can suggest today; to see how the 3D-printer works, print a unique souvenir with your picture and feel that techno future has already come!
A key objective of Makeit! Show project is to promote desire to create and build from an early age, to stimulate and maintain public interest in modelling, engineering creativity and implementation of the boldest ideas and projects, to support talented young people and bring up a new generation of engineers, designers and technologists.
During the festival a separate area dedicated to 3D printing will be organized. There you will see real 3D printers and 3D scanners in operation. They can print not only food, but also musical instruments, toys, jewellery, items for production, fashion industry and medicine!
Also among the thematic areas there will be zones with robots, flying objects, quadrocopters, androids, game simulators, mobile and computer technologies, all kinds of technological designs, a variety of new products in industries, etc.
The festival organizers invite everyone, regardless of age and profession, to plunge into the atmosphere of technological and creative future and to try to make something of their own, original!
Waiting for you on August 30 and 31 at the Moscow Sokolniki (4 pavilion). Starting at 10:00!
For more detailed information visit makeitshow.ru