First Chinese 3D printed car hits the road in Sanya, Hainan
26.03.2015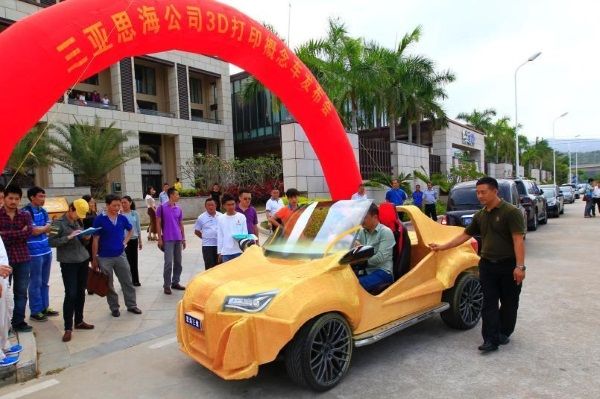 While almost countless applications can be named for FDM 3D printing technology, cars usually don't top the list. But that is exactly what Chinese manufacturer from the Sanya Si Hai 3D Technology company, based in Sanya, Hainan, have made. And no, I'm not talking about a little toy car – for which plenty of designs can be found on Thingiverse – but an actual drivable car.
Named 'Sanya' after its home town, this car can actually transport two people at the same time. Fortunately, its vibrant color scheme (called 'Tyrant Gold') makes very noticeable on the road. To be sure, this isn't the first 3D printed car to hit the roads; last September the 3D printed Strati car was unveiled in Chicago and Jim Kor 3D printed a drivable car way back in 2011 called the Urbee.
Of course, nearly every major automobile manufacturer uses 3D printing technology as a rapid prototyping device nowadays, enabling them to design more freely and at a faster rate. But seeing 3D printers on the assembly line as a mass-production method is very uncommon. At a large scale 3D printing technology is not yet time or cost saving when compared to traditional manufacturing methods. And as that is not expected to change any time soon, these types of cars are a rare sight.

And then there's another significant problem with 3D printed cars, especially those made using FDM 3D printers like this one: plastic filament usually isn't strong enough to properly support a combustion engine and all the parts that accompany it. Therefore, like the Strati car, this Tyrant Gold car features a far smaller and more compact electric engine. This engine has been housed in a huge composite plastic body which, along with a host of accessories, weighs a massive 500 kg. With a top speed of around 40 km per hour, it is supposedly solid and safe enough to take to the streets (though you can wonder if its road-legal).

Perhaps more impressive than its speed are the costs involved. According to its manufacturer, it is actually less expensive to produce a 3D printed vehicle than it is to completely construct a midsize sedan test model. A sedan like that would cost about 50,000 RMB (or $8,043) to manufacture, taking about a month or so. In contrast, a 3D printed car body costs just one tenth of that (about 5000 RMB) with the composite plastics costing just 10 RMB (or $1.6 per kilo) – far less than what we pay per roll of filament. When including electricity and labor costs (about 1,000 RMB) and depreciation of machinery (1,000 RMB per day) the total costs reach about 11,000 RMB (or just $1,770). While perhaps not as quick or as safe as a regular car, this definitely suggests that there is a future for 3D printed cars after all.

Though obviously not the first 3D printed car to be released onto the streets, this Chinese-made vehicle does boast one record: it's the fastest drivable car to be 3D printed.
While it took its manufacturers a whole month from design to the road, this Chinese creation was 3D printed in just five whole days. This narrowly beats the previous record set by the Strati car (six days) and leaves the Urbee car far off in the distance with more than a hundred days. It's also much quicker to construct than that midsize sedan test model, so we can't help but think that there really is something to this idea of 3D printed cars. Now if only we could see them race each other.