Fuel3D secures $2.6 million initial investment
27.02.2014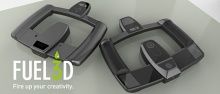 Fuel 3D Technologies Ltd., developer of 3D scanning solutions, today announced it has secured $2.6 million (€1.9m / £1.6m) in early stage financing to further the development of its Fuel3D scanner technology.
In 2013, Fuel 3D Technologies raised over $325,000 for the development of an affordable, high resolution handheld 3D scanner through its successful crowdfunding campaign on Kickstarter.
Born in Oxford University, Fuel 3D is claimed to be the world's first 3D scanner to combine pre-calibrated stereo cameras with photometric imaging to capture and process a 3D model in seconds. An expected retail price of Fuel3D scanner is $1,500.
The funding was provided by a syndicate of private investors, led by Ben Gill of London-based Chimera Partners.
"We have established a core group of shareholders that have taken a long term view on the technology and management of Fuel 3D Technologies," said Gill. "The 3D printing market is the focus of significant investor interest at the moment, and Fuel 3D's disruptive technology feeds that interest from a unique angle. We are actively exploring a number of interesting financing options, including the possibility of an early IPO."
Today's funding news comes in advance of a planned mezzanine financing round, expected to take place before the summer, as a possible precursor to an initial public offering (IPO) as early as 2015.
"We had a phenomenal response to our product on Kickstarter and the attention this generated led to many enquiries from the broader investment community," said Stuart Mead, CEO, Fuel 3D Technologies. "We have always been confident that our technology has the potential to revolutionize the industry and are delighted to have found a group of ambitious and well-resourced investors who share our vision."