Grow a custom palm tree with your 3D printer to hold your fruit
23.03.2015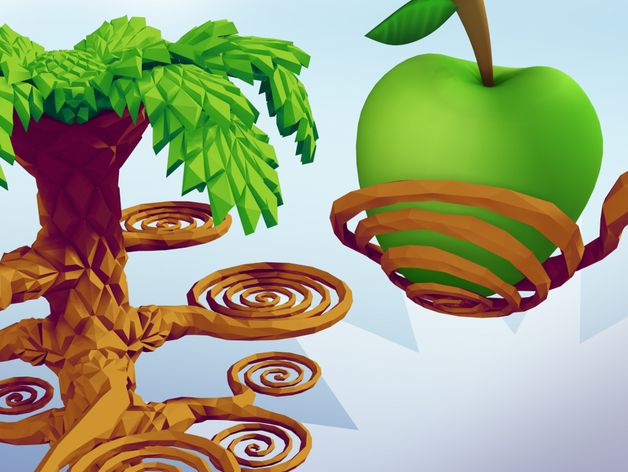 Thanks to an ever-expanding community of open source-minded toy designers who include 3D printers among the tools in their toolkits, the rest of the 3D printing community has been able to join in the fun and create their own toy collections. Whether the goal is to remix the design into something more personal and customized or simply print and use the designs as-is, the ability to produce products on-demand at this caliber has never been seen before.
Previously, toy designer David Hagemann created a small line of toys that he shared with the Thingiverse community called Linklings.

Inspired by Hagemann's own interest in ball joints, the Linklings toys featured ball joints embedded into their forms that could be remixed and attached together to create your own collection of stackable toy characters. Leveraging his game design experience, Hagemann created the 3D models using Autodesk's 3DS Max before printing them on his UP! Mini 3D printer and sharing them on the Thingiverse platform for others to enjoy, too.
This week, Hagemann released his latest toy design concept that - similar to the Linklings - is also modular and can be customized in a number of different ways by the user.

Titled "Fruit Tree (Modular)", the custom fruit tree design is capable of being adjusted within seconds to store the latest fruits (real fruit) that have been picked up from the grocery store.
Similar to the Linklings design, each of the small pieces are capable of snapping together and the final assembly is stable enough to support a number of heavy fruits including apples and oranges. To support the weight of the fruits, Hagemann incorporated a spiral design for the fruit baskets that bend down to disperse the weight and act as a hanging support branch off of the tree.

In total, users are able to customize different branches, trunk pieces, leaves and roots in any number of components they want to create a tree at a custom height. Because the pieces are modular, they are all capable of being printed on a small 120mm X 120mm 3D printer and can also be printed in any color.
For those that are feeling extra-crafty, the modular pieces can even be used to create other objects including this bracelet that Hagemann used as an example that was made using the leaves from the Fruit Tree
:
For a basic tree you need the following:
Trunk-Base.stl
Trunk-1xSlot.stl
Trunk-Crown.stl
Leave.stl x6
Crown-LeavesTop.stl
Branch-Normal.stl (or any other branch)
Root-Normal-Wavy.stl x6 (or any other root)
Branches spiral sizes are the following:
Branch-Big: apples and oranges
Branch-Normal: Pears, big nectarines and small apples
Branch-Small: Peaches and kiwis
Branch-VerySmall: Prunes and strawberries
Additionally, Hagemann has designed the Fruit Tree so that both the tree trunk length as well as the leaves can be customized to be any length. To test the height, Hagemann used 1kg of filament to print multiple tree trunk components and what resulted was a 3.5 meter tree - which is taller than most ceilings!
To find out more and print your own Fruit Tree, be sure to head over to Hagemann's Fruit Tree project page on Thingiverse.