Husband and wife create superfood '3D printer' to get their kids to eat their vegetables
25.12.2014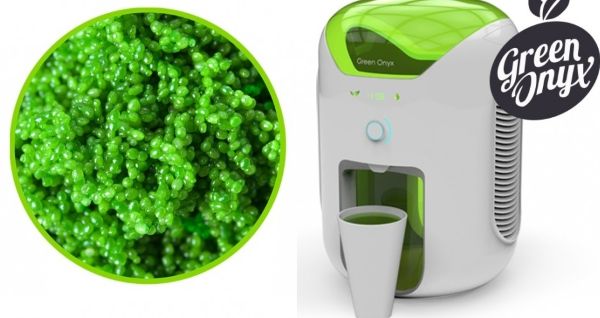 Even though 'maker-chefs' have been able to 3D print their own food affordably for a few years now, the majority of 'filaments' that have been available are usually dessert-based or otherwise high in sugar.
A new Israeli startup wants to change all of that (for their kids) and not just with regular food, but superfood.
Partly inspired by additive manufacturing, Tsipi and Ben Shoham, founders of Green Onyx, want bridge the gap between agriculture and 3D printing in a way that makes eating vegetables fun for kids (and adults).
"This is a real high-tech system integrated with agriculture in a way nobody has done before," said Ben, who is also the CEO of Green Onyx.

The idea for the superfood-printer came from Tsipi, who as a nutrition researcher has extensive knowledge between the correlation of eating algae and its natural defenses against cancer. With the goal of getting their two daughters to eat their superfood greens, they set out to create a self-contained system that makes it easy and fun for the kids to enjoy eating their daily requirement of green and healthy food.
Thanks to Ben's engineering and startup background, the husband and wife team were able to bring the best of their skillsets together to create what is now considered to be the only combination superfood grower and 3D printer. As for what the superfood is, Ben explains:
"After screening many types of bio-sources, we came across Khai-nam. In 1970, Nature had an article about it. So it's not a secret vegetable – it existed for hundreds of years in Japan — but it is complicated to grow and only grows in Thailand, Myanmar and Laos these days," said Ben. "We wanted to find a way to develop it."

The final design, which looks more like an instant coffee maker than a traditional 3D printer, is able to live non-invasively on a kitchen countertop and dispense the superfood in either a liquefied or paste form. All that is required of the user is to add a packet of the superfood base once per month.
As for taste? It might take somebody brave enough to try it, but according to Ben, it isn't too bad however he recommends using it as a vegetable base in other dishes or to mix it in with smoothies:
"Depending on the strain, it has a very neutral, fresh taste like sweet cabbage, and no smell." he said.

Armed with a mission and a working prototype of the Green Onyx, the Shohams have sinced garnered attention from nutritionists, food technologists and those with extensive knowledge about the consumer goods industry. Among others include Ron Guttman, the former CEO of Unilever Israel who has signed on to be the third founding member of the Green Onyx team and is personally backing the startup.
The real challenge when introducing a new food product however, is getting approval from international Food and Drug administrations. With a scientific advisory team that includes experts and leaders in the fields of nutrition and food safety, the Green Onyx has already received approval from the US Food and Drug Administration and has already filed a patent for the unique design.
When it finally becomes commercially available, the Green Onyx will come in three different sizes based on needs for home use, restaurant use and larger-scale urban farming. While there is no set release date, Ben adds that it will make economical sense for a wide market of users. "As long as you continue replacing the capsule pack we send you once a month, the system will run automatically and provide a daily source of fresh produce."