Industrial robot 3D prints artifacts out of injected resin and local sand
31.07.2015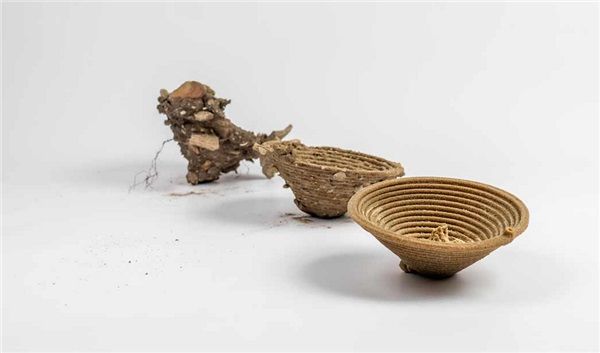 Where is the intersection between traditional manufacturing, experimental design, and digital technologies? For Jon McTaggart, the answer lies in his latest art project, presented at this year's DMY Berlin design festival. Titled Artifacts, the project entails an industrial robot that injects resin directly into sand-filled buckets along pre-determined paths, forming solidified objects such as the unique, earthy bowls shown below.

Originally from Tel Aviv, McTaggart describes the project as a way to explore "the meaning of traditional craft in the age of digital design and manufacturing." In addition to bringing together the worlds of digital and material design, the project has a distinctly physical element: once the object is completed, the artist has to manually excavate it from the loose sand, much like ancient ruins or artifacts. "You get connected to the object because you have to dig it out," said McTaggart. The entire process is shown in detail in the video below:
The starting point of each art piece is local sand, collected from the ground outside his workshop and put into a bucket. 'Imperfections' such as stones and pebbles are left into the mix, adding to the uniqueness of each object. At first, McTaggart experimented with manually pouring resin over the sand to see what kinds of shapes would form, however once he was comfortable with that, he decided to explore the possibilities of this technique within a digital environment.

Along with his team at jonmct design studio, he modified a Yaskawa Motoman MH robot arm by replacing the welding tool—normally used in the car industry—with a resin injector. Next, using the parametric design capabilities in Grasshopper, McTaggart was able to program the robot to follow programmed paths, injecting resin into the sand about 20 cm beneath the surface using a canister with an air pressure pump. The resin hardens the sand, forming the final object. The entire process takes roughly three minutes per object, and so far he has created over a dozen pieces, mostly in the form of structural bowls.

Despite the fact that he knows roughly what shape the object will take, there is no way to see the piece before it is complete, so each 'excavation' reveals some unexpected characteristics. In addition, the robot is capable of binding any type of sand, meaning that various objects can be created, each with distinct colors, textures, and compositions. In this way each object is completely unique, and despite being made by a robot, retains a rough, hand-made aesthetic.

Artifacts was presented at the DMY Berlin design festival, which took place in the German capital between June 11-14. In the near future, McTaggart wants to continue experimenting with digital and material design combinations, and, since the resin binder is food-safe, hopes that his technique could eventually be used in the food industry.