Industry 4.0 with MakerBot 3D printers in the presentation of the General Manager of MakerBot EMEA at 3D Print Expo
22.08.2017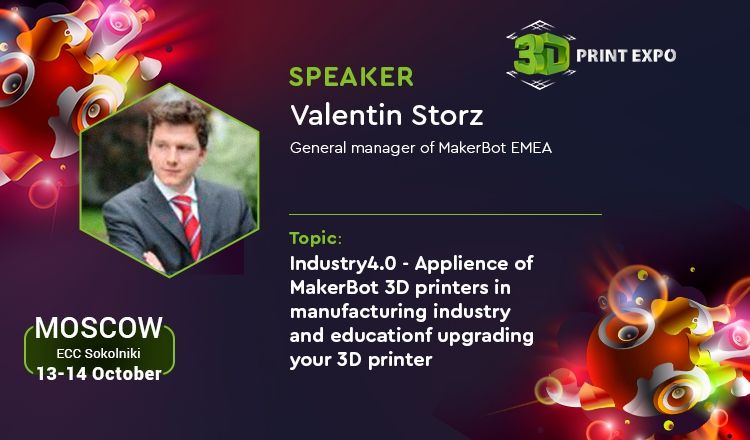 3D printing is changing the manufacturing industry and education? Valentin Storz, General Manager of MakerBot EMEA, will answer the question at 3D Print Expo on October 14. Besides, he will provide examples of using MakerBot 3D printers as well as concrete figures that prove their efficiency.
The company, where Valentin works, is a division of Stratasys Ltd. (SSYS, USA). Founded in 2009, today it is a global leader in the 3D printing industry. MakerBot EMEA develops 3D printers for prototyping and manufacturing of readymade products.
The speaker will give a presentation on the topic "Industry 4.0 – Application of MakerBot 3D printers in manufacturing industry and education". He will introduce the audience to:
Industry 4.0;
development trends of additive technologies;
unique MakerBot ecosystem intended for education and its application examples;
examples of using MakerBot in design engineering bureaus and small batch production;
economic benefits of implementing MakerBot in these industries.
Buy a ticket to 3D Print Expo conference to see how additive technologies are making the fourth industrial revolution.