Japan: OPENCUBE launches SCOOVO C170 3D Printer
22.10.2013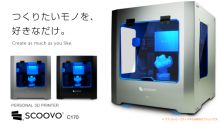 Japanese 3D printer company OPENCUBE launched SCOOVO C170 3D Printer. As we earlier reported, SCOOVO C170 3D Printer is a small-scale desktop 3D printer that has a max. build size of 175 × 150 × 150 mm and is designed to be a low-cost, environment friendly 3D printer for Japanese market.

SCOOVO C170 Printer comes with SCOOVO Studio, a 3D printing control software that users can easily change the printing settings of their choices. The C170 3D printer offers free one-year warranty and is provided with Japanese instruction manual and SCOOVO software in Japanese for domestic users.

Printer size: 404 × 376 × 333mm (depth × width × height)
Printer weight: about 15 kg
Exterior panel: Aluminum alloy (2.0mm)
Internal chassis: (1.6mm, 1.2mm, 1.0mm, 0.8mm) steel alloy
Number of print head: One
Layer thickness: 100μm (0.1mm)
Build area: 175 × 150 × 150 mm
Support removal method: Breakaway
AC adapter: 100V-240V 50/60Hz
File data transfer method: USB2.0 cable
Support OS: (32bit, 64bit support) Windows XP / Windows Vista / Windows 7 / Windows 8

Mr. Nobuki Sakaguchi, President and CEO of SCOOVO is proud of being able to bring a 'Made-in-Japan' consumer 3D printer to the Japanese market. Customers can now order the SCOOVO C170 on Opencube Store, the price is JP¥189,000 ($1,943 / €1,438), including tax.