How to Choose 3D Printers? Key Parameters and Characteristics
01.08.2019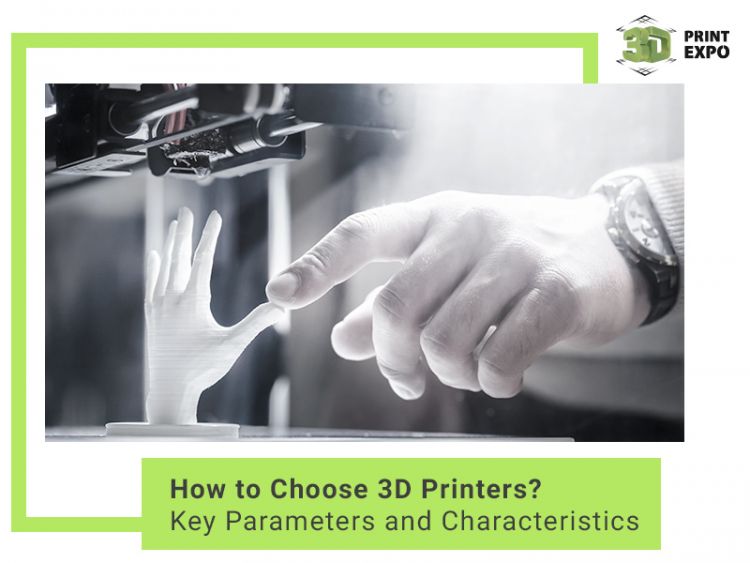 The 3D technology market grows and expands, introducing dozens of new devices year by year. They include 3D printers based on FDM, SLA, or SLS technologies and many other upgrades with various feature sets. How to select a 3D printer in 2019?
Popular printing technologies
3D printing is a modern technology frequently applied in building activity, healthcare, jewelry, footwear manufacturing, decoration, and for domestic needs. Therefore, the market offers several hundreds of 3D printers of diverse configurations, goals, types of materials, quality, and convenience. Considering the cost of 3D printers, devices can be generally divided into three groups:
budget models;
average price bracket;
business class.

Besides, 3D printers vary in printing technology, which affects the ultimate outcome and the price. Let's examine the most popular three-dimensional printing methods.
FDM. The most common printing technology among 3D printer manufacturers: such devices are affordable with good quality of products. 3D printing is conducted using a plastic thread, which a printer melts in process and puts melted material in specified areas.
SLA. A more expensive and higher-precision technology designed for producing small items (e.g. jewelry). Similar devices utilize photopolymer. A printer affects it by a special beam that turns material into tough plastic.
SLS. It is a high-accuracy and expensive printing technology supposing the layer-by-layer sintering of powder materials (polyamides, plastics) using a laser ray. Such printers are meant for industrial use: they are not only expensive but also pretty huge.
Things to be determined before ordering 3D printer
A 3D printer is a major and expensive purchase, even if you are going to buy a budget option of a three-dimensional printing device. You should select a 3D printer in a responsible and deliberate manner, assessing all the nuances of its utilization. It should serve for a long time. Prior to examining various models and assessing their technical specifications, you should determine your goals and possibilities.

Goals. It is a project requiring a 3D printer that defines its core parameters. It is important to find out whether the device will be used daily or occasionally, for entertainment or for earnings. When it comes to souvenirs or trifles for yourselves, a budget and compact option is enough. If the 3D printer is needed for stream production of objects (jewelry, hand-made stuff), you will require more expensive equipment.
Budget. The price of 3D printers ranges from 150 to several dozens of thousands of dollars depending on printing materials, quality, lifespan, and apparatus purposes. Before purchasing a 3D printer, you should calculate how many consumables you need to implement the goals and how much everything will cost. Do not save on a three-dimensional printing machine if it will be used constantly and will be necessary for work. To carry out complex and large-scale projects, functions and capabilities of budget printers will be insufficient.
3D printing material. Take into account what you are going to print when selecting materials. It is primarily referred to commercial projects where quality has top priority. 3D printers should use the most appropriate materials for ultimate goals. ABSand PLA plastics are the most affordable 3D printing materials.
Colors. To create items of different colors, you should acquire a printer with several extruders, and this characteristic increases the device price.

How to choose 3D printer
Identifying the purpose of 3D printer, the frequency of its usage, and its cost, you can start looking closer to an appropriate model. Each one has certain characteristics that should be considered.
Manufacturer
Top companies producing three-dimensional printing equipment are primarily located in several countries.
The USA. A leading country in terms of the amount and quality of produced devices. The majority of 3D printer manufacturers are based there. Many firms have been operating on the market since the introduction of additive technologies. USproductsusuallycanboast ofhighquality.
Europe. The second region after the USA in the rating of 3D printer production. European companies offer excellent quality at the right price.
China. Chinese three-dimensional printers are quite diversified. Its market provides a wide range of products, while many production facilities are located there. Chinese products should be chosen carefully: sometimes one can face poor quality, but it is possible to find a reliable model that will serve several years among the variety of their 3D printers.
Russia. The first Russian companies designing three-dimensional printers were established in 2010. Now, this market is well developed in the country. Russia's best-known 3D printer manufacturers: PICASO 3D, Magnum, Imprinta, and 3Dquality.

Printing speed and accuracy
It is one of the crucial characteristics to be taken into account first off. The accuracy affects the outcome quality, detailed elaboration of printed products. Production time depends on the speed of extruder movements. In the context of commercial 3D printing, you should prefer the maximum speed. The material type also affects the rapidness of printer operation.
Size of plot area
A huge plot area allows to print large objects. The bigger the printing area, the more items you will be able to produce. This parameter is significant if you plan to print objects of different dimensions or massive goods. Small details and souvenirs do not need the huge plot area, but if the project requires printing on an industrial scale, you won't do without a 3D printer with a big plot area. By the way, the printing of major objects can be split into smaller forms that will be glued afterwards.
Types of plastics
In case of the most popular type of 3D printers (FDM), you should thoroughly examine a list of available printing materials. A description of each device should specify kinds of plastics it can process and melt.

Thread thickness
The basic amount of 3D FDM printers for domestic use apply the plastic thread sold in bobbins weighing about 1 kg. Such a thread has different thickness: 1.75 mm and 2.85 mm. The first one is the most common. The layer thickness depends on the extruder rather than thread characteristics. You can buy bobbins by any brand for printers, save for rare printers compatible only with materials by their own producer.
3D printer mechanics
It is critical to analyze all subtle aspects of 3D printer assembling in general: open or closed construction; a type of guides affecting flexible plastics operations; a kind of extruders accounting for the layer thickness. For instance, working with heat shrinkage high-performance materials (ABS, HIPS, PC), you need an enclosed body in order to keep the constant temperature during production (otherwise, items can lose shape while creating layers). A printed object heats up and cools off evenly, does not separate into layers, and does not change form.
Heating of printing platform
A separate issue is a possibility of heating a 3D printing table. This characteristic is essential if you are going to use plastics with a high level of heat setting, an indicator of material compression after cooling. With three-dimensional printing being conducted layer by layer, the first layer will change the form before the second one without additional heating of the printing platform. It can lead to object deformation and fractionation.
Vertical and horizontal resolution
A rate of horizontal resolution (XY) affects the detail of a printed object. This feature represents a minimum movement of a printhead. The lower the rate, the more accurate items. A vertical resolution (Z) accounts for the layer thickness: the higher the rate, the thicker and more visible layers of 3D printed objects are.

What to be ready for after purchasing 3D printer
Choosing an appropriate model, you have to determine where it will be located: it is mainly referred to huge devices that will always be in operation. You should frequently aerate the room when heating plastics, thus the place for the printer should be corresponding.
If you are going to use the printer along with somebody (relatives, colleagues), make sure that other people are aware of the security rules and basic skills of 3D printer operations. If you plan to involve kids, it is better to choose a simple and steady device.
Off-the-shelf items will anyway require processing: by a file, a knife, or scissors. It is necessary in order to get rid of extrusive threads, potential dull ends, and rough edges.
Conclusion
The more precisely you define the goals of the 3D printer, its materials, and the rate of accuracy, the faster you will select the most appropriate three-dimensional printing device. You should also calculate the amount of money for materials. When it comes to commercial printing, make sure the ultimate price of a printed object is estimated adequately. Taking a proper approach to the selection of 3D printer, you will obtain a device compensating investments and serving for years.