Chinese companies eSUN and Creality 3D will become exhibitors of 3D Print Expo
11.09.2018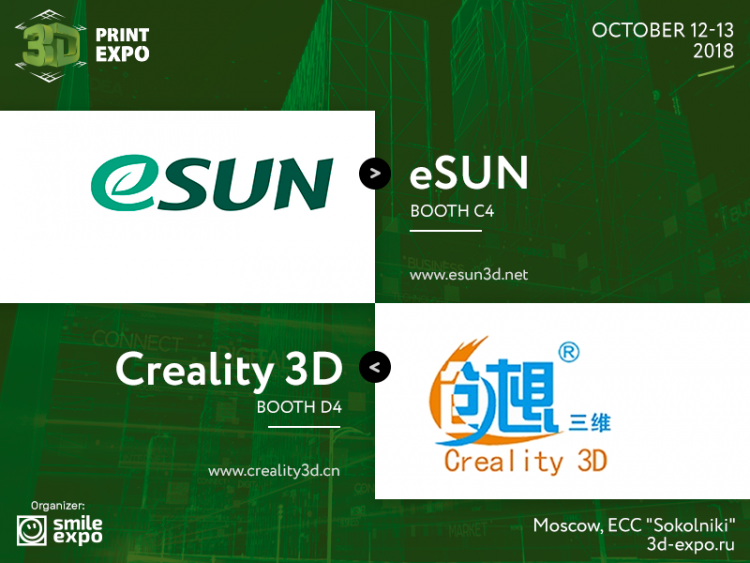 The international 3D Print Expo offers guests and participants to have a closer look at the latest developments in the field of 3D printing and modeling. This year, some of the exhibitors will be well-known Chinese companies: eSUN and Creality 3D.
eSUN
Founded in Shenzhen in 2002, the company is dedicated to the research and development of biodegradable polymers such as PLA and PCL. eSUN collaborates with Peking and Wuhan Universities and develops ecologically-friendly products using renewable resources. eSUN also conducts researches in three R&D centers, synthesizing and modifying polymers. 3D printing materials of eSUN are widespread in the global market.
eSUN developed several materials such as PLA, ABS, PVA, HIPS, PA, PCL, and PC. Since 2015, the company has developed photopolymers for SLS/DLP/LCD 3D printing. The management states that eSUN always adheres to the policy of affordable prices and high production standards.
Shenzhen Creality 3D Technology
Established in 2014, the company became a 3D printing evangelist. The high-tech enterprise focuses on OEM/ODM experience and sale of 3D printers. It released two series of devices (DIY and Whole). It exports products to Europe, the USA, Australia, Russia, the UK, Germany, Singapore, Egypt, and 30 other countries of the world.
The goal of Creality 3D Technology is to build multifunction and adjustable 3D printers such as CR-10 and Ender 3. They deal with supply of equipment, component parts, and 3D printing filaments.
Attend the 3D Print Expo to see innovation developments of Chinese companies! This year, you will have a possibility to attend an engaging lectures session, workshops, and learn about leading companies that specialize in 3D printing.
Every week we will report about the most interesting exhibitors that you will see at 3D Print Expo this year.
The international exhibition dedicated to the additive technologies development will take place in Moscow on October 12 and 13.