3D Pechatnik is preparing an unusual exhibit for the art zone of 3D Print Expo 2016
07.11.2016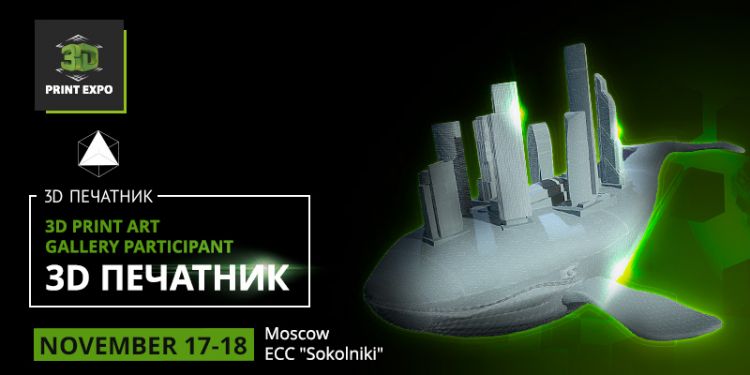 "Do you love fairy tales, as we do?" – this rhetorical question is a kind of motto of Chelyabinsk-based company 3D Pechatnik that implements fantastic projects using additive technologies. The company will showcase its achievements in the sphere of 3D printing in the art zone of 3D Print Expo 2016, which will take place in ECC Sokolniki quite soon – November 17-18.
Representatives of 3D Pechatnik are preparing three variants of unique exhibit Lord of the Seas. Graceful sculpture will be presented in different variants to show the visitors of the art zone the main production stages of a complicated 3D-printed object.
Chelyabinsk-based company 3D Pechatnik – is a team of talented specialists in the sphere of 3D printing, modeling, engineering, architecture and design.
In their daily activities employees of the company often have to deal with the development and printing of constructional parts and machines, design engineering of complex industrial constructions. Nevertheless, specialists find time for realization of creative ideas.
Visitors of the art zone will be able to get acquainted with the symbol of the immense power of nature – a blue whale with one of the main attractions of modern business Moscow – high towers of 'Moscow City' business center – on its back.
The prototype of this fabulous 3D model, elaborated specially for 3D Print Expo, was the Monster-Marvel Whale from the fairy tale The Little Humpbacked Horse by Pyotr Yershov.
"We really love what we do and just cannot miss the largest in Russia exhibition of 3D technologies. Therefore, we drop everything and rush to the capital to show the 3D printing community our, dare I say it, unique work of art," commented the decision to participate in the exhibition Danila Nacievskiy, founder of the company.
Don't miss your chance to see the exclusive masterpiece from 3D Pechatnik, and to find out how it was created! Attend the 3D Print Expo 2016 conference in ECC Sokolniki on November 17-18.