LUXeXceL to invest in 3D printing factory for LED optics
26.03.2014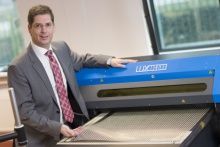 Dutch company LUXeXceL Group, the inventor of the revolutionary Printoptical Technology, announces an investment in a new 3D printing factory dedicated to manufacturing volumes of LED lighting optics. The first housing and installation activities have started this month, and the first digital production line will be operational by the second half of 2014.
Together with its partners, LUXeXceL has completed the design of very precise and fast 3D printers for the manufacturing of LED optics. This one step "CAD-to-Optic" 3D printing process prints optical components in one job and do not require post processing.
"Our new printers will enable us to print very precise LED lighting optics and will allow us to jet new optical materials. This increases the design capabilities we offer to optical designers and enables the LED Industry to customize per application, project or even single product." said Richard van de Vrie, founder and CEO of LUXeXceL.
This technology offers LED Lighting manufacturers significant cost and time savings. The digital process allows prototyping, small batch production, and medium volume manufacturing using the same technique, and it gives the optics designer the flexibility to iterate and improve their work continuously.

The new 10.000 square foot 3D printing production facility is located a few minutes away from LUXeXceL's headquarters and will offer new jobs in development, manufacturing and logistics.
The new facility will be equipped with a clean-room ensuring the production quality of functional optical components. With this fatory LUXeXceL's volume production capabilities is expected to go up tremendously.

LUXeXceL's production process will take a big step forwards with this investment. Not only will volume production capabilities go up, but the fact that this new facility will be equipped with a clean-room will mean a big step forward in the production quality of functional optical components for the LED lighting industry.
"This facility will allow us to upscale our production, and bring down the time to market for large series of customized optics significantly", said van de Vrie.