MakerBot Academy: Why 3D Printing Belongs In The Classroom
13.11.2013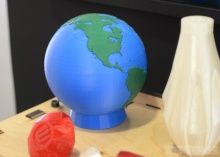 MakerBot founder and CEO Bre Pettis holds the Replicator 3D printer. His new initiative, called MakerBot Academy, was inspired by the 2013 State Of The Union Address, in which President Obama called for a return of manufacturing and technology jobs to the U.S. Courtesy / Reuters
The advent of 3D printing has sparked a revolution as an extremely cheap and efficient form of manufacturing: With 3D printing, people can quickly and easily make whatever their brains can imagine, from toys and gizmos to replacement parts to complex objects like guns, cars, human organs, and even houses. But New York City-based MakerBot believes it's important for children to learn this pioneering technology at an early age, and is making an effort to get 3D printers inside every U.S. school by the end of 2013. MakerBot is calling on the power of crowdfunding to make its dream a reality.
The initiative, called MakerBot Academy, was inspired by the 2013 State Of The Union Address, in which President Barack Obama called for a return of manufacturing and technology jobs to the U.S.
"3D printing has the potential to revolutionize the way we make almost everything," President Obama said. "The next industrial revolution in manufacturing will happen in America. We can get that done."
The plan for MakerBot Academy, according to MakerBot founder and CEO Bre Pettis, is to persuade individuals and companies to donate money to public schools through the crowdfunding website DonorsChoose.org, which will help teachers raise money to afford a MakerBot Academy 3D printing bundle for their school. Each MakerBot Academy bundle includes a MakerBot Replicator 2 desktop 3D printer, non-toxic filaments for the 3D printer to use, and a protection plan that provides schools "with the highest quality service and support from the people who know your MakerBot product best."

"Instead of waiting for someone to create a product for you, you can create your own," Pettis said at his flagship MakerBot store on Tuesday. "It can change the whole paradigm of how our children will see innovation and manufacturing in America."
MakerBot did not specify how long the MakerBot Academy crowdfunding campaign will last, but MakerBot says it wants to get 3D printers into schools by Dec. 31 of this year. MakerBot is getting some help from a handful of organizations, which have already announced their support of the MakerBot Academy initiative: MakerBot's parent company, Stratasys, said it was offering "a lot" of money to offset donor expenses, though it refused to say exactly how much. MakerBot is also getting some help from the U.S. government, as Tom Kalil, deputy director for technology and innovation within the White House Office of Science and Technology Policy, formerly endorsed the MakerBot Academy initiative.
"We all need to think creatively about giving our young people the tools to be 'the makers of things, and not just the consumers of things,'" Kalil said.
MakerBot hopes to start the 'Maker' trend by giving back to its own community first and foremost. Pettis has personally pledged to purchase a new MakerBot Replicator 2 desktop 3D printer for every public high school in Brooklyn, where MakerBot is based.
"We have one core mission: Empower the next generation," Pettis told CNET. "If we don't, who will? We just have to take responsibility."
Once public schools begin receiving MakerBot 3D printers, then what? Pettis refuses to let his expensive creations become paperweights, which is why his company is also launching the MakerBot Thingiverse, which is an online 3D digital design community similar to Shapeways where teachers and students can design, upload, print and share their own designs. MakerBot is even offering a 3D printing curriciulum to let students understand how 3D printing works, and the company is challenging schools once Thingiverse kicks off to design the most unique objects that best demonstrate or help students understand abstract math concepts.
The U.S. is in desperate need of this 3D printing initiative. Not only will 3D printers challenge the imaginations of students, forcing them to build physical objects to solve complex problems, but the U.S. is ranked No. 17 overall in Pearson's international education index, and an extensive study from the Organization for Economic Cooperation And Development (OECD) found American adults have performed below average when measured against their global peers in math, literacy and problem solving. The same organization found U.S. 15-year-olds placed 25th out of 30 countries in math performance, and 21st in science performance. The MakerBot Academy initiative would likely help students understand these concepts, considering how important science, math and spatial reasoning are in learning how to design, create and manipulate 3D objects.
"We want to make sure that what we do is relevant, has a deep impact, and is genuine," Pettis said.