MakerBot offers Jurassic T-Rex Skeleton and T-Rex Skull models for 3D printing
08.05.2014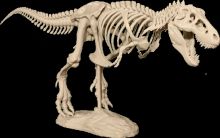 Makerbot released two new 3D printable models today for adventurous 3D print fans: a T-Rex Skeleton and a T-Rex Skull.
The T-Rex Skeleton is an anatomically correct, realistic and scaled model of a full Tyrannosaurus rex skeleton (Tyrannosaurus means "tyrant lizard"). This giant lived in the forested river valleys of North America 65 million years ago and has always been a favorite of 3D modelers, but very challenging to sculpt and 3D print. The T-Rex Skeleton is 20 times smaller than the real-life skeleton and can be a good colleciton for home and classroom. This 79-piece model is available for $14.99 on the MakerBot Digital Store.
Also being introduced is a large-scale T-Rex Skull as part of the MakerBot AcademySM curriculum offered to educators. With this 3D printable model, students will understand what can be learned from fossils and in doing so, acknowledge the difference between scientific facts and theories. The T-Rex Skull is available for free on Thingiverse.
"As a former teacher, I think having 3D models of the T. rex dinosaur that can teach and entertain is pretty neat, " noted Bre Pettis, CEO of MakerBot. "I am so excited to 3D print and assemble the T-Rex Skeleton and I can't wait to see what teachers do with the T-Rex Skull in their classrooms. Having these models available helps bring out the inner paleontologist in all of us. They are both educational and works of art."
In addition to offering the two new T. rex 3D models, MakerBot is holding a T-Rex Skull Remix Flash Challenge! For one week Thingiverse members can make the T-Rex Skull the "King of Dinosaurs" by adding something fun to the T-Rex Skull. Whether participants give the T-Rex Skull a crown, a top hat or some other appendage, this fun challenge is geared to inspire schools and Thingiverse users to think beyond the normal limits of standard models and really embrace this opportunity to make one their own.
Entries must be tagged #TRexRemix and uploaded to Thingiverse between May 6 and May 13 at 11:59 (ET). Winning remixes will be featured on Thingiverse, and three winners will receive MakerBot PLA Filament and a free download of the MakerBot Digital Store T-Rex Skeleton.