MakerBot, Saks & MasterCard to bring 3D printed snowflakes to holiday shoppers
14.12.2013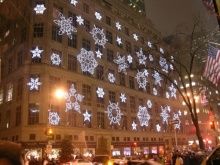 In 2008 Saks 5th Avenue, NY commissioned Marian Bantjes to draw 25 snowflakes for their '08 christmas season. Then the company had commissioned different jewellers to interpret some of the drawings into beautiful jewellery.
For this holiday season, Saks Fifth Avenue teams up with MasterCard and MakerBot to create the gift of 3D printed snowflakes for MasterCard cardholders. Starting November 25th and running through December 24th, visitors to the Saks Fifth Avenue store on Fifth Avenue in New York City will have the opportunity to take a 3D printed snowflake home with them.

The beautiful snowflakes, illustrated by Marian Bantjes will be 3D printed by MakerBot on a MakerBot Replicator 2 Desktop 3D Printer. Shoppers that spend $150 or more at Saks Fifth Avenue on their MasterCard will receive a special commemorative 3D printed snowflake, which makes a beautiful ornament or holiday decoration. Saks Fifth Avenue customers can also see a MakerBot Replicator 2 Desktop 3D Printer in action 3D printing the snowflakes at the store Wednesday through Friday.
Designer, writer and illustrator Marian Bantjes is known for her detailed and lovingly precise vector art, her obsessive handwork, her patterning and ornament. Bantjes has been called "one of the most innovative typographers working today". The MakerBot 3D printed snowflakes are the first time Marian Bantjes artwork has been translated into a 3D printed item.


'I drew some like feathers, like antlers, with little people, one made all of houses, some like sparkly lights, a hairy one, a few like ribbons, some were complex and three dimensional, others simple and flat …' MB