Moderator of 3D Design Roundtable: Candidate of Technical Sciences Mikhail Petrov
11.09.2019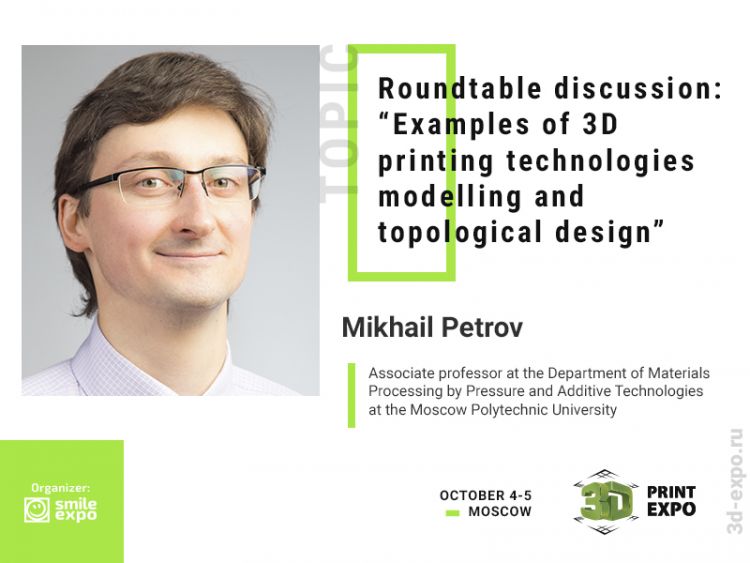 On October 5, 3D Print Expo will feature a roundtable discussion about the methods of 3D printing modelling technologies. Mikhail Petrov, Associate professor at the Department of Materials Processing by Pressure and Additive Technologies at the Moscow Polytechnic University, will become a moderator at the event.
Mikhail Petrov is an Associate professor, Candidate of Technical Sciences, specialist in interdisciplinary engineering sectors. He has extensive experience in topological optimization of details design and modelling of FFF/FDM and EBM/SLM processes applied in additive manufacturing.
Expert is a lecturer at Moscow Polytechnic University at the Department of Materials Processing by Pressure and Additive Technologies that was established in 1943 and is currently one of the leading departments in the country, uniting best specialists in the industry (professors, scientists, Doctors of Sciences).
Mikhail Petrov will become a moderator at the roundtable discussion: "Examples of 3D printing technologies modelling and topological design", featuring such matters as:
the control of prototype performance involving the topological optimization on the 3D prototyping stage;
reinforced materials for FDM/FFF. How to define the filament orientation after the 3D printing;
verification of the computer modeling and research results: methods and tools;
computer modeling of FDM/FFF, EBM/SLM and SLA processes.
The roundtable discussion at the seventh 3D Print Expo will take place on October 5 at 11:00, joined by the leading experts.
Note: we're still celebrating the Moscow City Day! Special offer is extended till September 15. Hurry up to get tickets at the special price:
exhibition – 500 RUB;
workshops – 3000 RUB.