Multi-Material 3D Printed Shoes Amaze Prague Public
07.11.2013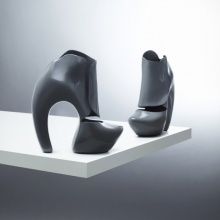 The collection of 3D printed stylish shoes from the modern Czech designer Pavla Podsednikova was one of the most impressive items at Prague Fashion Week this October, where famous Czech and foreign designers presented their work to the public.
Podsednikova's collection called Instant Shoes 2 has been 3D printed using number of various materials and Stratasys Objet500 Connex 3D printer.
Instant Shoe 2 line-up has been presented in Designblok'13 hall as part of the Fashion Week. It consists of five models of exclusive multi-material 3D printed shoes in the form perfectly copying and matching the foot, as a result of using the digital camera. The collection includes boots that cover the leg completely, like a cocoon; the front open part makes it look classy and functionality.

Unique multi-material 3D printing technology developed by the Stratasys Company made it possible to print shoes from tight and yielding elements that create a perfect match for the foot.
Lighter external 3D printed part was made from nontransparent grey material VeroGray that allowed Podsednikova to design solid, functional and aesthetic concept. By combining these tight materials with rubber-like black component TangoBlack, designer invented the new flexible material for the soft inner sole which repeats the natural curves of the footstep.
"What's special about this multi-material Objet Connex 3D printer is that it gives us opportunities to create product uniting several different materials in one solid piece and we don't have to join it together. In terms of design, we have no boundaries of the traditional 3D printing technologies and the traditional production methods", said Podsednikova.

The switchover from mass production to personalized shoes manufacturing.
Instant Shoe 2 collection aims to explore possibilities for personalized shoes manufacturing allowing to enjoy the perfectly matching parameters for the customer's foot. The main motivation for such switchover is the benefit of more comfortable shoes and exclusive design. Podsednikova says she plans to create 3D library of her shoes in the future where the customers would choose from the variety of models to 3D print it by themselves.