Newchoco: Custom Chocolate Molds
28.07.2014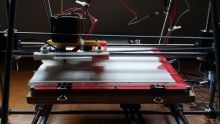 Personalized chocolate molds, each mold is 3D printed with your text, then you pour in the chocolate and give it to someone special!
Make a special friend or loved one happy by giving them a chocolate with a unique message, whether it be birthday, anniversary, or just because. This will surely make an impression and give them a smile. It can be used to ask someone out, tell your Mom happy birthday, congratulate a friend, and so much more. You get the mold, so you could make just 1 or 100 chocolates!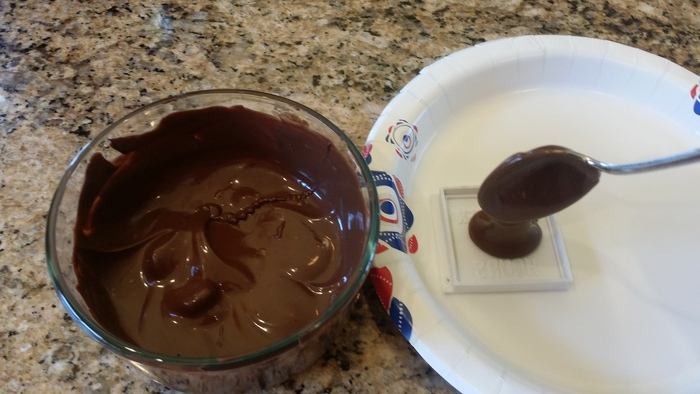 How It All started
This project began about 2 months ago when I was looking for a birthday present for my best friend, she really loves chocolate and nerdy things. So what was I to do but resort to my 3D printer. After about an hour of modeling I had my first draft of the square version of the mold done. I then added text to them to finish them off (They ended up saying "Science nerd" and "Happy Birthday Liz!"). I then poured chocolate into the mold, and gave it to her. She loved it!
I spent the next two or so weeks creating the circle mold, and the heart shaped mold. I made a Happy Birthday chocolate for my Mom, she loved it also. I finally decided that there could possibly be a business here. I spent the next month perfecting the molds. I made the back come apart from the main mold piece for easy removal of the chocolate. The next thing to do was to make the molds fully food safe. All 3D prints, although the material itself is food safe, the printing process leaves micro holes, which bacteria can grow in, so it must be sealed.
The first thing I tried was a silicon based sealant and lubricant, this process failed, it was uneven and wore off after a short period of time. I scoured the internet and failed to find anything that would work. I then looked around everyday objects for the answer. I really liked the wax paper coating, so I bought some food safe wax. I melted it, dipped it, and it worked! The coating covers all the micro holes, and makes it fully food safe.
How Will I Manufacture Them?
To make them, I will use my mold templates and add in your text , then use my current 3D printer to create your custom molds. Then I will dip them in wax twice to seal them. This also helps to release the chocolate from the mold. A great thing about using 3D printing as a manufacturing method is that I can increase production by simply building another printer. This allows me to meet nearly any demand, from $100 to $10,000.

There are three mold shapes, circle, heart, and square. All the molds are printed as two separate pieces which allows for easy removal of the chocolate. The molds can hold up to 40 characters, which is enough for most messages. The average molds size is 2.5 by 2.5 inches.
I have been through nearly 50 mold iterations to get to where I am right now, each one testing a new font size, depth of characters, waxing process, mold shape, nozzle diameter and much more.
About half of the total molds that have been created
How to Make Chocolates
1.Heat up 2/3's of your chocolate (please use standard molding chocolate which can be found nearly everywhere) in the microwave, by heating and stirring at 30 second intervals until it is fully melted. To prolong the life of the molds, place them in the freezer before beginning.
2. Add the remaining 1/3 of the chocolate into the already heated chocolate and stir until it is fully melted. This helps to temper the chocolate which greatly improves strength and melting temperature.
3.Pour the chocolate into the mold, then gently shake to get air bubbles out and place in the freezer.
What do I need the money for?
I need to money to buy supplies such as plastic and wax in larger quantities to reduce costs.
Who Am I
My name is Grant Gabrielson, I'm from Park City, Utah. I am self-proclaimed nerd who has been tinkering with 3D modeling since the first Makerbot cupcake came out. This will be my first manufacturing business that uses a 3D printer. However, this is not my first business as I have had plentiful experience in online selling through eBay (100% feedback on 387 reviews). My eBay business (in which I sold other people's goods for 25% of the profit) provided relevant experience in customer care and product fulfillment. Please feel free to check out my blog.
Credit Where Credit is Due
My Mom (Jo Gabrielson) allowed me be an employee of Gabrielson Consulting LLC, and took the time helping me to fill out all the needed financial information. This was the only way to do it as I am under 18. Also, thanks to her for allowing me to overrun the kitchen for the past two months.
Source