Open-source Mamba3D printer set to launch via Kickstarter
17.04.2014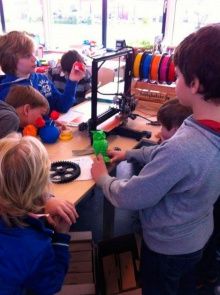 The evolution of 3D printing has moved quickly and every week or so we see another 3D printer entering the market. 3D printers are available in all shapes and sizes and all greatly varying in quality, but not all of them are that great.
Dutch startup MyMatics has been working on their prototype 3D printer Mamba3D since last year, hoping to set a new standard for quality, usability and affordability.
"After three prototypes we've finally made a 3D-printer that meets our high standards", says Michiel Bieshaar, founder of MyMatics. "Currently we are testing the limits of our printer and we are excited by the great results."

The Mamba3D will soon be launched on Kickstarter where MyMatics hopes to raise funding to start production and build a user community.
The Mamba3D is a medium sized, open-source printer using the Fused Filament Fabrication (FFF) 3D printing technology. It features an aluminum frame, all metal extruder, up to 50 microns layer resolution and a build volume of 200mm x 200mm x 200mm (7.87x7.87x7.87 inch). The electronics is a single circuit board with integrated stepper drives, which is prepared for any future upgrades like adding a display, SD-card capability and a heated bed to your printer.
"The printer will be available in a Do-It-Yourself-kit which is easy to assemble in only a few hours." says the company.
"We look forward to engage with our backers from Kickstarter and others from the 3D-printing community", notes Michiel. "They will provide valuable feedback, which will help us to continue our development."
Specifications of the Mamba3D printer:
Frame: Anodized aluminum
Extruder: All metal, temperatures up to 300 degrees Celsius
Build Volume (WxDxH): 200mm x 200mm x 200mm (7.87x7.87x7.87 inch)
Filament: 1.75mm
Layer Resolution: up to 50 microns
Nozzle: 0.4mm
Software: Repetier with Slic3r implemented
Firmware: Marlin
MyMatics released a teaser video showing the Mamba3D printer in action, although the company is keeping what the printer looks like under warps.
But here are some 3D prints made on a Mamba3D showing the quality of the printer. The Kickstarter campaign will be announced in a few weeks, stay tuned.