Endurance Robots founder to tell 3D Print Expo how to upgrade 3D printer using lasers
16.08.2017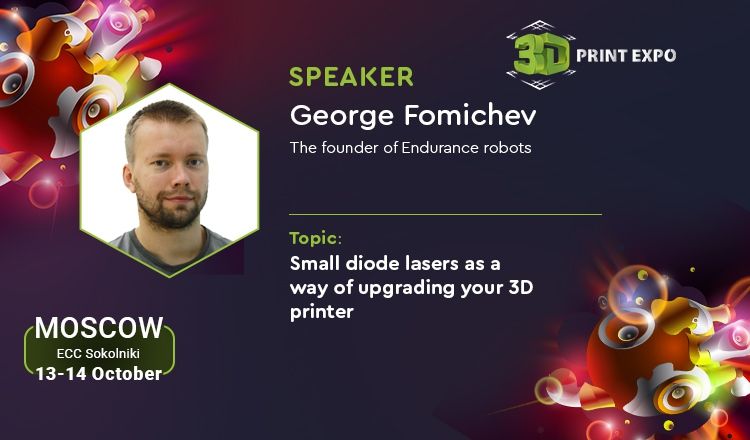 On October 13, George Fomichev, an expert in robotics and innovation, founder of Endurance Robots, will speak at 3D Print Expo conference.
Speaker's presentation topic: Small diode lasers as a way of upgrading your 3D printer.
George Fomichev is a futurist, successful entrepreneur, founder and head of Endurance, the company developing robots, chatbots, lasers and gravers. He has been focusing on innovations for more than 10 years. The expert regularly speaks at the international conferences: Monage, IEEE, Maker Faire etc.
At 3D Print Expo, the speaker will reveal how to upgrade a 3D printer using small diode lasers and what advantages it will have for businesses.
Presentation key points:
what diode lasers mean and reasons for their implementation;
how to upgrade a 3D printer and CNC equipment using lasers and why this concept has not yet been used earlier;
features of DIY laser cutting and laser engraving;
example of working with engraving software. A concept of gcode for engraving, what parameters should be given and how to generate quality gcode;
what materials should be used for laser cutting and engraving;
how to create wonderful engraving within 3 minutes on your own. Art of using such specialized software as CNCC Laseraxe, BenBox and Inkscape.
The annual exhibition and conference, 3D Print Expo, will take place on October 13-14 in Sokolniki ECC. The registration is available on the link.