"Our First Order Was Connected to Additive Technologies," Interview with Commercial Director of RENA SOLUTIONS Evgeniy Molchanov
26.09.2019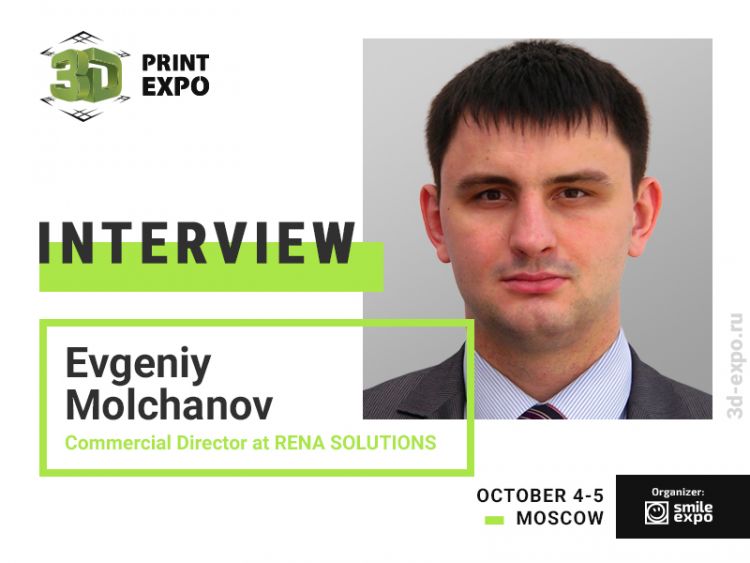 Evgeniy Molchanov from RENA SOLUTIONS will be a speaker at the seventh 3D Print Expo. We talked to the expert about the company's activity and advantages of additive technologies for production processes.
Evgeniy Molchanov is a Commercial Director of RENA SOLUTIONS, which provides customers with automation solutions for production processes and updates equipment.
Interviewer: 3D Print Expo (3DPE)
Respondent: Evgeniy Molchanov (Е.М.)
3DPE: Tell us about your work experience before you joined RENA SOLUTIONS. Where and what positions did you hold?
Е.М.: I have been working in the field of production equipment for 10 years. Previously, I was a chief project engineer in the Russian office of TRUMPF, which produces laser-processing equipment. Besides, I am a chief project manager at the advanced industrial technologies cluster of Skolkovo Foundation.
Currently, I am holding the position of commercial director at RENA SOLUTIONS and have been working at the company since its foundation in 2017. I communicate with keynote customers, partners, and deal with the development strategy. Activity of RENA SOLUTIONS started with the first order. My role was to get that order.
3DPE: What difficulties did the company face in the local market at the beginning of operations?
Е.М.: We had no understanding of market parameters and competition multiplied by poor organization. Good luck somehow helped to solve these problems, but everything mainly depended on the professionalism of the team and ability to focus on the task. Work in the company helped me to open a new market for myself, look for competitive advantages. Besides, I learned to take decisions in the conditions of great uncertainty.
3DP: How does the development of additive technologies influence the company's activity?
Е.М.: Our first order for integration was connected to additive technologies, and now RENA SOLUTIONS is building a partnership model based on our own know-how. The company tries to respond to any novelties in the rapidly growing field of additive technologies quickly. I think we manage to do this successfully, especially taking into account factors of incorrect market assessments and maturity level of technologies.
3DPE: What advantages does the implementation of 3D technologies in production processes provide?
Е.М.: People that are well-versed in the theme know them well – production speed and flexibility in case product parameters change. Business shows great interest in this field, but there is such a problem as the lack of experience in the integration of innovations. From this perspective, the national market significantly lags behind the market of the USA, things do not happen so quickly with us.
As for industries where additive technologies bring the biggest number of benefits, the list of them is rather long. Let's take medicine: the arrival of 3D printed implants reduces therapy risks for patients, helps to shorten the healing period and to make it smoother. Besides, 3D printing technologies are efficient in machine building, aerospace industry. Hardware for robots and machine tools is realized based on production automation solutions using additive technologies.
3DPE: What difficulties may enterprises face when they decide to advance production using additive technologies?
Е.М.: It is important to note that you can benefit from the integration of innovations into the production process only in case your enterprise has an IT infrastructure. To use additive technologies and do it efficiently, companies need to start with production audit and building of a correct strategy.
On October 4, at 3D Print Expo, Evgeniy Molchanov from RENA SOLUTIONS will tell the audience about the latest developments in 3D technologies market. The speaker will make a presentation "3D printing software and hardware: what is new in the market".
---