Chefs and 3D Printers: Current Application of 3D Printing in Cooking
23.07.2019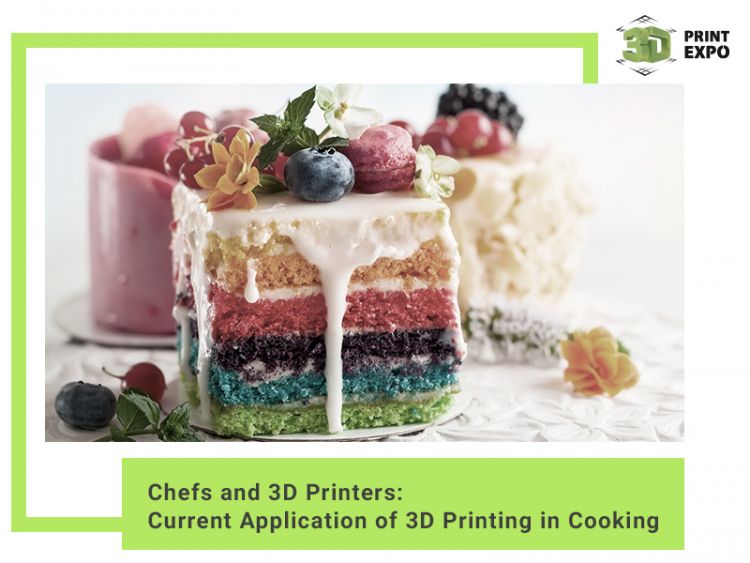 Food 3D printing is a relatively new technology that allows cooking dishes of different shape and from a variety of ingredients.
Food printers mainly use fused deposition modeling (FDM) technology. The printer extrudes fluid material on the printing platform gradually forming a one-piece structure.
Food 3D printing has become more popular in Europe than in China or the USA. Some of the most popular manufacturers are 3D Systems (ChefJet), Natural Machines (Foodini), BeeHex (Chef3D), and others. Their printers can produce chocolate, spaghetti, sugar, and many other things, capabilities are almost endless. Read more about each of them below.
3D Systems (ChefJet)
3D systems presented their first food printers at CES 2014. Food printers allow producing multifaceted forms of sweet products from non-standard candies and pastries to big cakes and other desserts. 3D Systems ChefJet Pro is a professional confectionary 3D printer designed to print with different materials and colors. It uses the principle of jet 3D printing: the device forms thin layers from sugar-containingpowdery materials thanks to water treatment.
ChefJet can work with color leaving monochrome prints on produced items. The more advanced ChefJet Pro can work with several colors simultaneously. Both printers can produce confectioneries from sugar or milk chocolatewith different flavors including cherry, mint, and sour apple.
The maximum build volume is 255×355×295 mm. The device has a control unit with an embedded touch screen display for the development of 3D models, a USB port, and a wireless interface for obtaining print data.
Natural Machines (Foodini)
Foodini uses FDM technology. The printer extrudes fluid material on the printing platform gradually forming a one-piece structure.
The device has five capsules for five different ingredients that can be extruded with different pressure and temperature.
These capsules should be filled up with the readymade pastelike materials prepared using a hand blender or in some other way.
3D printed products can be consumed straight away after they are produced (for example, if we are talking about a dessert) or after thermal processing (in the case of pasta or pizza).






BeeHex (Chef3D)
Chef3D by BeeHex is capable of printing a unique pizza according to the individual requirements of the customer. For example, it allows making a pizza in the shape of the favorite cartoon character for a child, or a pizza without gluten for adults that suffer from gastrointestinal disturbance.
The device uses the pneumatic system instead of thetraditional additive manufacturing technologies. In 2017, BeeHex raised $1 million of venture investments in order to release 3D printers. According to the major investor, the printer may be of interest to large pizza chains such as Domino's or Pizza Hut.
Initially, BeeHex wanted to develop a printer that could produce different products for astronauts during long-term space missions. However, co-founders of the company adapted their original technology for the commercial market of products produced on the Earth.
Examples of using 3D printing in culinary practice
The use of 3D printing for cooking is beneficial for several reasons:
automation that helps to cheapen the cooking process;
development of a common standard for all dishes;
customization (creation of shapes that are impossible to realize manually, among other things).
The latter is especially important for culinary specialists that want to create confectionery masterpieces. For example, candy-maker Dinara Kasko creates unusual desserts using 3D modeling and prints standalone parts on a 3D printer.
Dinara develops models using 3D MAX on the computer. Then she prints the developed models on the 3D printer, polishes, casts, rubs, and creates unique silicone molds for baking.