Meet First 10 Speakers at 3D Print Expo Moscow 2019
28.08.2019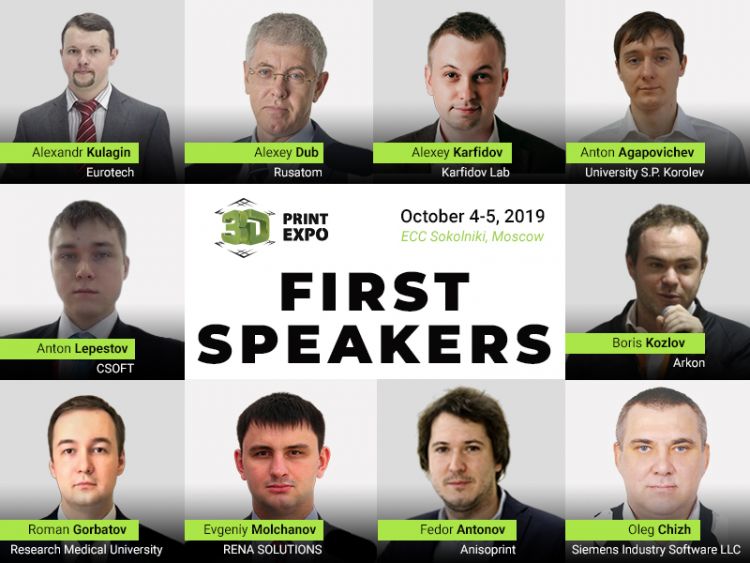 The seventh 3D Print Expo will feature leading experts in additive technologies that will speak about achievements in 3D printing and scanning as well as the use of 3D solutions in different industries. Names of the first ten speakers are already known.
The CIS largest exhibition of achievements in 3D printing and scanning 3D Print Expo Moscow will take place on October 4 and 5. Both days of the event will be dedicated to not only showcasing innovative 3D solutions but also discussion of industry trends and promotion of additive technologies. Representatives of major companies, startups, and research institutions will share personal work experience and real-life case studies with the guests of the event.
Alexandr Kulagin, Director of Eurotech educational and technological platform at the Institute of Transport Systems, Nizhny Novgorod State Technical University n.a. R.E. Alekseev (NNSTU). The speaker will cover the theme "Integration of additive technologies in education via project activities".
Alexey Karfidov, an expert in R&D management and Chief Designer at Karfidov Lab. The specialist will make a presentation titled "3D printing in prototyping and production of technological products", in which he will explain how to apply SLS printing in quick prototyping and tell about the use of FDM technologies.
Boris Kozlov, CEO at Arkon, which supplies complex solutions for the integration of additive technologies in the production. In his report, the speaker will focus on 3D printing in construction engineering and reasons for which the sector attracts investors.
Roman Gorbatov, Head of the Additive technologies lab at Privolzhsky Research Medical University, board member of the Association of 3D print specialists in medicine. The expert will tell about the results of 3D printing applied in different medical areas and will assess the prospects of 3D bioprinting in Russia.
Evgeniy Molchanov, Commercial Director at RENA SOLUTIONS, which supplies solutions for the automation of production processes and consults on the issues of automation and production logistics. The theme of the speaker's report is "3D printing software and hardware: what is new in the market".
Anton Agapovichev, Assistant at the Engine production technologies department, Samara National Research University named after S.P. Korolev. His report is titled "Additive technologies in the production of aircraft parts".
Oleg Chizh, Manager of Processing Automation Development (NX CAM) at Siemens Industry Software LLC (Russian subsidiary of Siemens PLM Software). The speaker will make a report "Additive manufacturing at Siemens NX – a complete solution from idea to manufacturing".
On October 5, 3D Print Expo will organize the discussion "CAE in additive technologies – the market of solutions for future". Participants of the roundtable will be experts of leading national companies.
Alexey Dub, CEO at "Rusatom – Additive Technologies", the unified industry integrator focused on the development of 3D printing. Professor, Doctor of Engineering Science, first deputy of CEO at JSC "Science and Innovations".
Fedor Antonov, CEO at Anisoprint that developed its own technique of 3D printing with multicomponent materials based on fiber-reinforced plastics.
Anton Lepestov from CSOFT that specializes in consulting and implementation of complex solutions in computer-aided design systems, production planning, and document flow.
Besides, speakers Anton Agapovichev (Assistant at the Engine production technologies department, Samara University) and Oleg Chizh (Siemens Industry Software LLC) will join the discussion.
---