President of 3D Education Association will tell about training for sought-after specialists at 3D Print Expo 2016
24.10.2016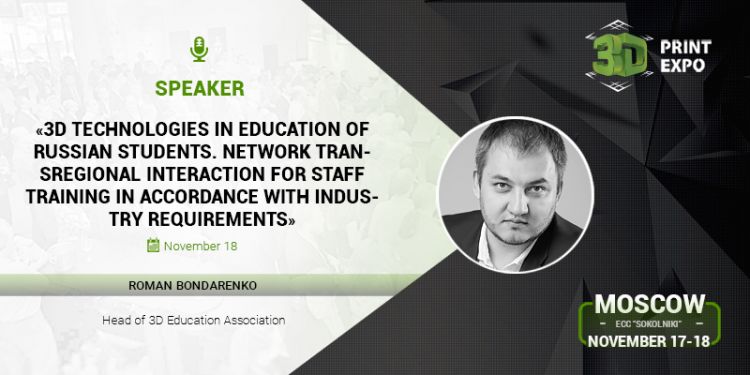 Use of additive technologies in education allows children of any age to simplify education process. Lessons involving progressive science and technology achievements are much more interesting and useful for school students. Roman Bondarenko, the head of 3D Education Association, will tell about all advantages of implementing 3D innovations in the educative process.
The IV annual 3D Print Expo will take place on 17-18 November at Sokolniki ECC. The two-day conference will include presentations of the best industry specialists from various countries and, obviously, the best additive technology experts from Russia.
At the second conference day, 18 November, Roman Bondarenko will share his experience in applying progressive 3D developments in educational objectives. The speaker will present the project: 3D technologies in education of Russian students. Network transregional interaction for staff training in accordance with industry requirements.
Roman Bondarenko's project focuses on implementing and sharing experience of using additive technologies in the school educative process. The project is aiming to increase the amount of students interested in obtaining research and technology skills and knowledge, as well as to form engineering and technical Big League with high leading qualities and modern engineering thinking. Children learning 3D technologies from an early age will be able to solve the most complicated tasks and develop innovative technologies in the country after graduation from the university. Surely, such specialists will be very in-demand on the labor market.
The main goal of 3D Education Association is to establish an interaction chain: schools – secondary vocational education – universities – business community.
You can find out details about the project and activity of 3D Education Association on 17-18 November within 3D Print Expo 2016.