Puzzle Facade Is A Giant Playable Rubik's Cube
13.12.2013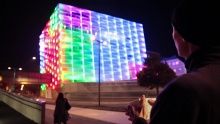 Puzzel Facade is a project by Spanish designer Javier Lloret, and it is basically a giant Rubik's Cube that is displayed on urban spaces, it is then controlled by a 3D printed interface cube.
Javier Lloret used the facade of the Ars Electronica's building in Austria for his giant Rubik's Cube, and the colors and blocks of the building would change when they were changed on the 3D printed interface cube, have a look at the video below.

In Puzzle Facade the player interacts with the specially designed interface-cube. The interface-cube holds electronic components inside that allow for it keep track of its orientation and the rotations of each side of the cube. This data is sent over Bluetooth to a computer that runs the Puzzle Facade designed software. This software changes the lights and color of the large-scale Ars Electronica's media facade in correlation to the handheld interface-cube.