Registration to 3D Print Expo for students and pupils is now only 300 RUB!
28.08.2018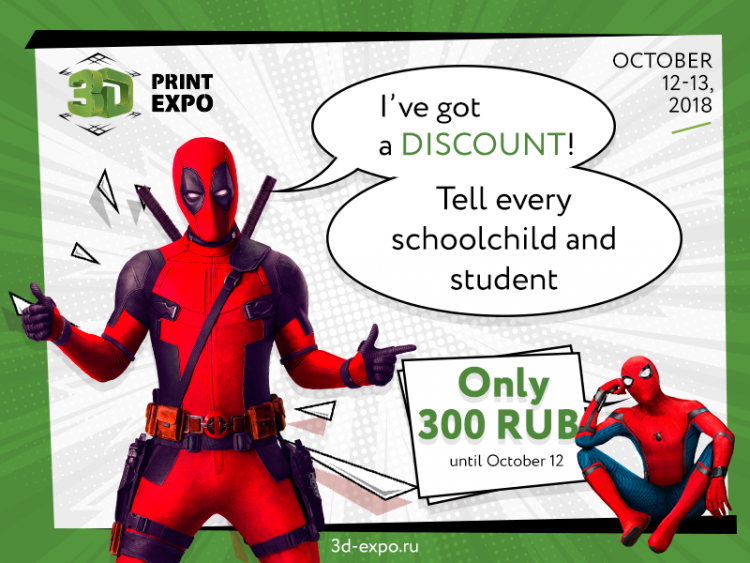 Study at school or university, interested in modern technologies and want not only to see but also touch 3D products? Then, 3D Print Expo scheduled for October 12-13 is the best choice for you!
Celebrating Knowledge Day, we present a fixed ticket price of only 300 RUB for students and pupils who buy online. Just visit the registration page and purchase tickets at the maximum low price!
Why is it interesting and funny?
At the event, you will be able to take part in the drawing of presents and a 3D pens workshop, create own figure and take it with you.
Hear interesting lectures on most amazing possibilities of 3D printing and scanning.
Attend the roundtable dedicated to the training of talents in the sphere of additive technologies and find out how to obtain a prestigious profession.
Observe the variety of figures of your favorite superheroes, 3D printed sculptures of aliens and futuristic objects.
Learn construction kits of any complexity.
Attention! Don't forget to show your student or pupil ID at the entrance in order to attend the exhibition.
Buy a ticket online to save money because on the event day, the price will go up twofold – 600 RUB instead of 300.
If you want to get down and dirty in nuts and bolts of 3D printing, modelling, and scanning in order to learn how to create unique figures and earn money on it in the future, join us at the specialized workshop area. Even now buying 2 ≥ will cost only 3000 RUB. The special offer is available to all attendees with no exceptions – just enter the promo code 3Dmasterclass and get your discount!
Register and buy a ticket at a special price!