SOLS Systems announces nationwide launch of custom 3D printed orthotics
08.08.2014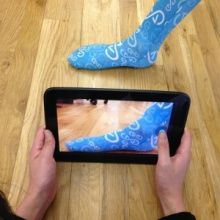 SOLS Systems, a one-year-old startup developing custom 3D printed orthotics, announced today the launch of their flagship product: SOLS. The custom, corrective orthotics are one of the world's first mass applications of 3D printing.
Although its current market is small, SOLS Systems is still one of the favourite companies on capital markets. In December 2013, the startup closed a $1.75 million seed financing round led by Lux Capital. And in April 2014, SOLS Systems has raised $6.4 million in Series A funding led by Lux Capital with Founders Fund, RRE, and existing investors.
SOLS boasts a range of features geared towards alleviating pain and improving comfort. SOLS is designed to support you and correct your biomechanical alignment. Each patient's weight, activity level, and medical needs determine the material structure of each SOL. The company uses next-generation computer vision and 3D printing technology to create customized products to fit to patient's body. The company states that SOLS were able to withstand two thousand pounds of heel pressure without showing any signs of deformation. Meanwhile customizable leather top covers give patients the ability to match their SOLS to their style.

Starting today, patients can get SOLS through a number of launch partners across the U.S.. On SOLS website, you can simply enter zip code of your area, and a list of local providers will be displayed and you can connect directly to your local providers.
SOLS simplifies the prescription process with its tablet-based app, 10-minute scanning process, repeatability, and real-time visualization technology. The 3D model for an insole will then be customized to fit to your shoe and body. Before ordering, patients and practitioners can review and update the model they have created and make prescription and feature changes in real-time.


The model will then be printed using NASA Grade Nylon with an antimicrobial coating in the color of your choice. You can get your SOLS with a leather topcoat and an optional layer of cushioning.
"SOLS has been able to take the orthotic scanning and prescription process from archaic and sterile to tech-savvy and fashionable. I have had many patients return to get additional pairs of SOLS after having such a positive experience and comfortable fit with the product," says Dr. Emily Splichal, DPM and human movement specialist.
SOLS can be wiped clean with a soft rag or run under a faucet and dried. The company guarantees SOLS for one year of regular wear and tear.
SOLS Systems aims to democratize custom mass-manufacturing by lowering the barrier to entry and giving providers everywhere access to the nascent technology. Dr. Lloyd Bowser, DPM, a leading Baltimore-area podiatrist, shares: "This is just the beginning. SOLS will be a tour de force in merging technology with our everyday lives enhancing both our present and our future for years to come."