Student develops 3D printed Inteligloves and goggles, taking virtual reality gaming to new level
06.03.2015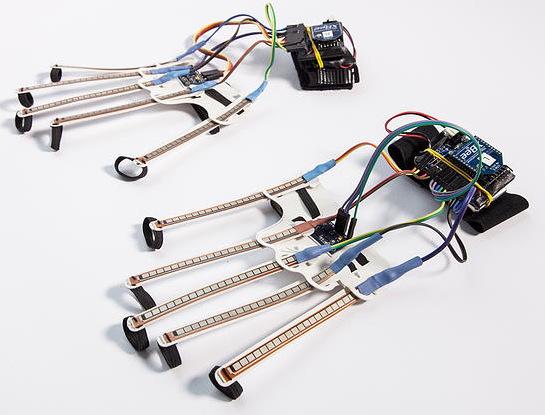 It looks like 3D printing technology is also being increasingly used to accommodate and commercialize virtual reality. A few months ago we saw a successful crowdfunding campaign conclude for the 3D printed virtual reality goggles Pinć (projected to cost just $100 or so), which suggests that 3D printing technology offers an easy way to bring virtual reality to mainstream consumers.
The same conclusion can be drawn from a pair of 3D printed gloves and goggles that can be used to influence virtual reality experiences – perfect for gaming or even messing with data in a Minority Report-esque fashion. These 'Inteligloves' are part of the Project Anywhere and have been developed by Constantinos Miltiadis, a Cypriotic postgraduate student from the ETH University in Zurich.
His 3D printed gloves, together with Kinect sensors and an app-and-smartphone-based virtual reality headset, have shown to be capable of conjuring up a gigantic virtual reality experience in which users can be completely emersed. "The first thing I realised when I tried the Oculus Rift was that it's very believable. In a matter of minutes, in a matter of seconds actually, you lose your connection to reality," Constantinos revealed. 'But something was missing. The first thing I wanted to do was look at my body and look at my hands.'
While not possible in the Oculus Rift, that is exactly what his Project Anywhere enables you to do. The Kinect sensors track your own skeletons, while the 3D printed gloves enable complicated hand movements to be transported to the virtual world as well. All that data is sent to a cloud, which again sends it to the app in your mask-mounted smartphone. The software used for this – Omnitracker – is capable of tracking tracks 83 degrees of freedom in real-time.

As he revealed, these 3D printed gloves were remarkably easy to make. "This is an elastic PLA material that you can print on a home 3D printer," he says, though it does require the incorporation of flex sensors, a wireless module, an inertia measuring unit, an accelerometer, gyroscope, and digital compass to be added as well. Thanks to 3D printing however, prices can be expected to stay down. The goggles, which he 3D printed in ABS, are expected to cost just five euros to make. And what's more, the entire setup – both gloves and mask – are wireless for optimum convenience.
While virtual reality experts would have to verify this, it is believed that Project Anywhere is the first virtual reality system to incorporate glove manipulation. "I don't know of anything else that can have your own body in a digital environment, so you can control an avatar through a joystick but your body doesn't play any role. So if you can, in real time, interact in this kind of augmented reality environment and have your own body as a digital avatar, I think this is the different innovation that it brings," says Constantinos.

In theory, this could mean that virtual reality games could be played with these gloves, though Constantinos was quick to state that he doesn't want shooters to be played this way. "It stops being a game; it is actually a simulation of reality," he argues. Instead, he is currently exploring options such as 'multiplayer Skyping' where participants appear to be physically present, and to offer virtual museum tours. In the latter option, the idea would be the actually download a museum onto your phone, and simply explore it from home or from a section of the museum. "You can do a lot more than you can in a physical space," he says, envisioning a museum that partly exists in real time and partly in virtual reality - an idea with which he has already won an architectural design prize.
Ludgar Hovestadt, who has supervised this graduate project, also believes it could change the field of architecture. "The driving force for actual architecture is the new media, connectivity via the internet and so on, and to be able to arrange these things in a global environment and make a new architectural environment I think it's very important to understand the substance of these new materials," said Hovestadt.
For now, Project Anywhere is still in development, though Constantinos has already caught the eye of a number of large businesses in several industries. Alongside the commercial Oculus Rift (which is expected to be released soon), 2015 is proving to be a great year for virtual reality.