Synthesis Architects & Stratasys Work Together on 3D Printed Ergonomic Rocking Chair
23.03.2015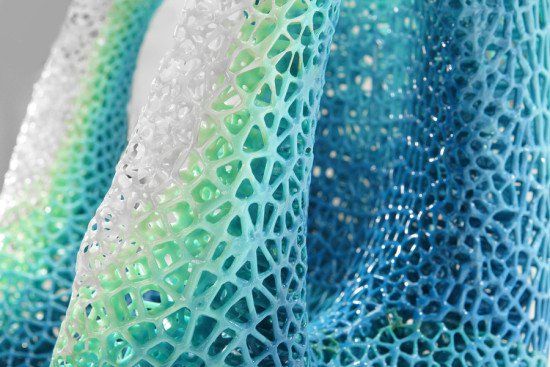 Artists, designers, craftsmen, and the like will all find ways to express their creativity no matter the tool set, but their quest to continually innovate has through the centuries been greatly responsible for many techniques and tools available today. With a technology like 3D printing however, the artistic spirit is unfettered in myriad ways—not only just because of the unlimited potential in the creation of 3D printed items, but also in the independence it offers artists to be able to prototype and manufacture without involving anyone else. Designs can be tweaked and re-printed on a whim, daily, if they so choose. [stratasys-logo]
Because it does offer so much to the designer, and often seems like pure magic, 3D printing is especially appealing to students who are usually working on multiple projects at once and still navigating their way into finding what area or field it is they want to dedicate themselves to. Just having one 3D printer on campus—or an entire lab full of them—is a not only a great novelty but also a luxury and a privilege, and just as at public libraries and other venues offering their services for free—there is usually a line of eager users waiting to get their hands on the 3D printing equipment.
And while it is definitely the role of the art teacher to teach new technology and encourage its use, the students at the USC School of Architecture are sometimes overly enthusiastic about the use of 3D printing, causing faculty to think they need to explore all of their options, materials, and timeframe for deadlines before running straight to the 3D printer.

"I see it all the time—a lot of students just 3D print everything," said Alvin Huang, founder of Synthesis Design + Architecture, and teacher at the USC School of Architecture. "You see things that could have been done better, faster, or cleaner by hand. I find it a very troublesome predicament we're in, where we're letting the tool dictate."
When Stratasys came calling to engage his company in a 3D printing project, he used his mindset regarding the technology to turn things around a bit, and perhaps to make a bit of a point to his students too. Stratasys has asked Synthesis to use their Objet500 Connex3 printer to create a 3D printed piece showing off what the 3D printer, meant for large scale, multi-color, can do—and most of you already know that it's a machine capable of producing extremely expansive, impressive 3D works.
The architects decided not to go the route of making something just for the sake of 3D printing, but designed something that could not have been produced with any other technology. Obviously, taking one look at the 3D printed Durotaxis Chair, anyone can see that they more than outdid themselves during what was obviously a comprehensive design experience to begin with.
"We see the computer very much as an intuitive tool, the same way previous generations thought of the pencil," said Huang. "We try to find a happy medium between the scientific aspect, and the intuitive manipulation of that science."
The architects employed a number of different 3D design software packages including Rhino, Grasshopper, Weaverbird, ZBrush, and Maya. The result is a stunning, vibrant and very modern design. This is not your grandmother's rocking chair. It functions in two different settings, both as an ergonomic rocker and a lounger.

"It wasn't the case of the code creating the form," explained Huang. "We very clearly sculpted it for visual and ergonomic properties."
Made out of interwoven mesh, and a striking gradients of color from white to cyan, the ergonomic 3D printed rocking chair was shown off at the ACADIA 2014 Conference.
The Durotaxis Chair was a true collaboration between Stratasys and Synthesis as Stratasys actually printed the 3D masterpiece quite far away—at the headquarters in Israel. As the piece was certainly something new for them to produce as well, they may have been many miles away, but the two companies stayed in very close contact for production the chair.
"It was also an experimental process for them," said Huang. "Ultimately, through a lot of back and forth, we were able to arrive at something they were able to print." [four]

For Stratasys, that meant truly making use of the Objet's many different nozzles (it encompasses 96 nozzles in all) that are responsible for producing the wide display of gradients seen.''In our case, we were able to create gradients not just of color, but also stiffness and transparency," said Huang, who pointed out that there was still a great deal of manual work to be done with the piece in terms of removing the tremendous amount of support material left over.
Working in tandem with Stratasys to continue to refine the chair, Huang says, "We're trying to take it a step further.How do we expedite the process, and refine the geometry of the lattice so that you're changing direction before the material starts to drop? We're trying to do something where, in a sense, we're growing the chair."
While he does fight the battle of working to direct young architects to the best tools for the job rather than what might be the most exciting or the most fun, he does have great respect for 3D printing, and the team at Synthesis obviously has an incredible mastery of digital design, which was well highlighted in the project with Stratasys.
"When you think about architecture and design, most of what we do is the assembly of products, and the more bespoke you can make them, the better," said Huang. "I look at 3D printing as a shift from rapid prototyping to rapid manufacturing. Hopefully someday we can produce bespoke items for the same impact as mass-produced items—that is the theoretical holy grail."