The $100 SLA Peachy Printer Kit is Finally Here & it's Amazing
16.06.2015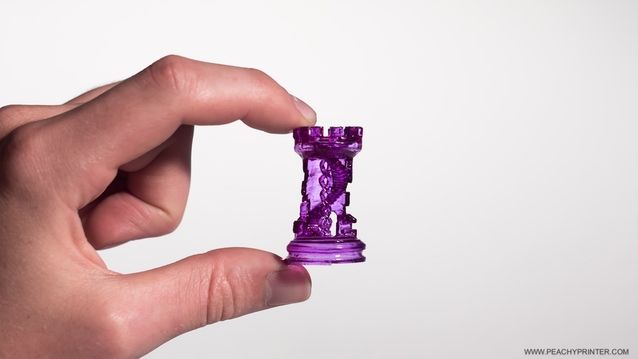 You may recall back in 2013, a tiny little 3D printer hit Kickstarter, priced at just $100. It was called the Peachy Printer, and this was unheard of price-wise, especially for a Stereolithographic (SLA) printer. After some delays and many of their backers anxiously awaiting the release, today the company has informed 3DPrint.com that they have unveiled "The Peachy Printer Kit V1.0″.
"It's been a long time coming, but The Peachy Printer team has finished development on the $100 kit," Nathan Grayston of Rinnovated Design tells.
Orginally when the Peachy Printer first was prototyped, the machine used an audio signal in order to receive data for print jobs. This was totally unique for the industry, but the company ultimately decided to nix this technique in favor of using a digital circuitry model instead. This means a quicker setup, less troubleshooting and less annoying cables to get in your way. Best of all though, the price didn't change, as the kit is still available for just $100.

While a select few of the original Peachy Printer backers may have been excited about the audio printing option, the company may still release an add-on for the audio circuit in the future if they find the demand is still there.

One of the great things about the Peachy Printer is that since it is only available in kit form, it can can be completely customized to the size you want. The build volume can be modified depending on the size of an object you need printed, and even the color resins can be mixed in order to create new colors. Want a yellow-green color? Then mix the perfect amount of yellow and green. Peachy Printer will offer 8 completely mixable colors.
As you can see in the photos and video provided, the Peachy Printer is capable of printing some very high quality objects in very fine detail. There is also much more on the way form Peachy Printer as well, and those looking forward to getting their own printer will soon be able to do so.

"We are also turning our heads to the setup of our manufacturing and packaging facilities," the company explains. "Many of the materials have already arrived, so that means we can get started on the production & packaging process! It feels great to be at this stage in the project, and we're very excited for what the future has in store! Once again from everyone here at Peachy Printer we'd like to thank you for being a part of this supportive community."