2019's Best 3D Printers
20.08.2019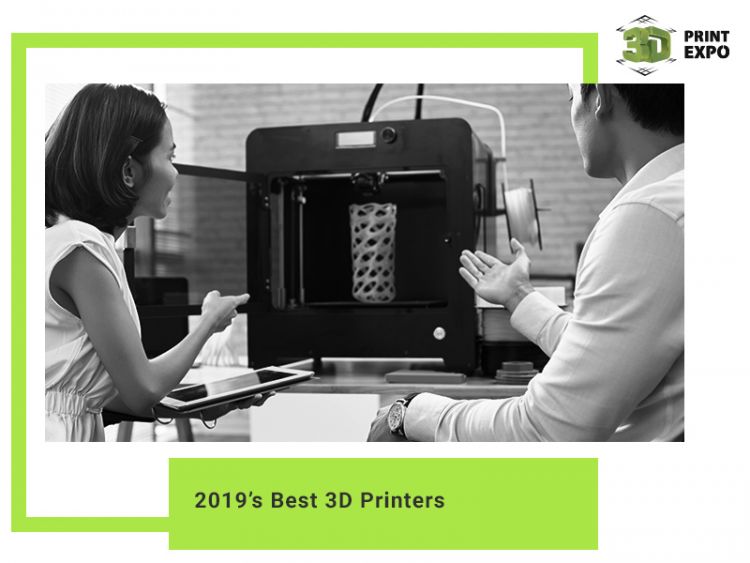 Year by year, the additive technology market offers new, more advanced three-dimensional printing devices both at the amateur and at the professional level. Well, how does the list of the best 3D printers in 2019 look like? What models are worth noticing?
How to choose high-quality 3D printer
To choose not just a good 3D printer but the most appropriate one, you should clearly realize the purpose of the device. Some models are designed for infrequent household usage, while others are for manufacturing and business. Each of such 3D printers has a range of significant characteristics affecting the ultimate outcome.
Printing accuracy and speed. It is better to select a high-performance device for commercial printing, and a simpler and cheaper 3D printer is enough for household usage (home use does not suppose cost recovery).
Material types. The most popular types of FDM printers can utilize various materials and support different kinds of plastics. All of them are usually given in the device description.
3D printer mechanics. This feature includes basic aspects of assembling: a type of guides, a kind of extruder, open or closed construction, as well as indicators of vertical and horizontal resolution.
Heating of printing platform. If you are going to use heat shrinkage high-performance plastics, you will require a printer with a heating platform in order to avoid the distortion inaccuracy in process.
The majority of top companies producing 3D printers are located in the USA. European companies also can boast high quality. Chinese equipment can vary enormously in terms of characteristics and endurance, thus you should choose them quite carefully. Such Russian manufacturers as PICASO 3D, Magnum, Imprinta, 3Dquality, and others offer a diverse amount of products as well.
Top high-quality 3D printers of 2019
Meet a selection of top 3D printer models of this year from different manufacturers. They include fused deposition modeling printers (FDM), candy printers, devices for experienced users and for beginners.
Wanhao Duplicator 10 (D10): small size and style
A new FDM model by one of the additive technology industry leaders. Simple, reliable, and compact. It is perfect for domestic needs with pretty solid core functionality. The device is equipped with the MK12 extruder providing a decent printing accuracy.
Wanhao Duplicator 10 processes only PLA. Its working area does not heat up. A sufficient budget device for newcomers: the printer is trouble-free, easy to fit into any space, and fast (80 mm/sec).
Manufacturer: Wanhao, China.
Advantages: stylish body, small size, price, functionality.
Disadvantages: only one type of material, non-heated working space.
Price: 28,000 RUB.
XYZprinting Da Vinci Junior: strong willingness
An inexpensive and user-friendly 3D printer. It suffices for household usage and fits in a small space. Da Vinci Junior is intended for newbies: it is supplied fabricated and is ready to print after network connection. The only thing to be adjusted is the nozzle height for certain printing.
The kit includes open-source software; firmware upgrades are conducted via the Internet. It utilizes PLA for printing; operational speed is 100 mm/sec; minimum layer thickness is 100 microns.
Manufacturer: XYZprinting, Taiwan.
Advantages: usability, out-of-the-box, affordable price, high quality.
Disadvantages: PLA only, spool reader contacts can come loose.
Price: 38,000 RUB.
Anet A6/А8: flagship self-assembling
A user-friendly and popular 3D printer is suitable for those desiring to explore additive technologies without spending all the money from the start. This Chinese model can be upgraded. The producer issues additional details and elaboration guides.
It is a self-assembling FDM printer delivered in parts. It can process different plastics, has a heating working space, and supports ABS, PLA, HIPS, and PVA.
Manufacturer: Anet, China.
Advantages: a wide choice of compatible details, low price.
Disadvantages: fragile frame, self-assembling.
Price: 15,000 RUB.
FlashForge Creator PRO: double hit
An appealing model in terms of technical specifications is a clone of US-made MakerBot Replicator 2X. It has the following characteristics: a double extruder, compatibility with ABS, PLA, and PVA, a closed body, and an airflow. The reliable and compact 3D printer in the strong body is supplied along with software and SD card.
Two extruders with 0.4 mm nozzles allow printing high-accuracy objects and, most importantly, applying two different material colors. According to user feedback, the model is trouble-proof and sustainable.
Manufacturer: Zhejiang FlashForge, China.
Advantages: two-color printing, airflow.
Disadvantages: noisy during operation, limited in size.
Price: 78,000 RUB.
Ultimaker 2+: speed and accuracy
A good 3D printer manipulating with any types of plastics. It is easy-to-install and user-friendly. Besides, a possibility to change the majority of settings leaves wide room for creative experiments. It is delivered in a closed body. TasksareloadedfromtheSDcard. It prints pretty quickly (300 mm/sec) and extremely precisely (from 20 to 600 microns).
You can utilize the printer right after unpacking and net connection. The kit has four interchangeable nozzles of different diameter (0.4 mm in the default mode). The apparatus can process composite materials, in particular, XT-CF20 Carbon. It also supports ABS, PLA, Nylon, PC, PC, TPU, CPE, and CPE+.
Manufacturer: Ultimaker, the Netherlands.
Advantages: self-sufficiency, high printing quality, reliable nozzle, convenient slicer.
Disadvantages: a single extruder.
Price: 180,000 RUB.
Zortrax M200: available business class
A semi-pro 3D printer by a Polish manufacturer, Zortrax, is appropriate for small and medium businesses with low budgets. It is high-quality and well-established on the additive technology market equipment. M200 has been repeatedly recognized as the best device by Make magazine and 3D Hubs specialized website.
It is supplied in an open body as well as is equipped with a heating platform and one extruder. M200 allows connecting to Wi-Fi and inserting the SD card. Minimum printing layer thickness is 90 microns. The printer supports such materials as ABS, HIPS, and Z-Ultrat.
Manufacturer: Zortrax, Poland.
Advantages: inexpensive business class, high printing quality, usability, and convenient settings
Disadvantages: software with presetting, a poor range of printing materials.
Price: 160,000 RUB.
PICASO Designer X PRO: reliable pro
It is a professional 3D printer able to produce complex high-accuracy items and to use special infusible kinds of plastics. The device is equipped with a double direct extruder with a nozzle replacement option. It is delivered in a closed body. The printer features seamless airflow systems and steady material supply.
It is based on FDM printing technology and is compatible with PLA, ABS, HIPS, PVA, PETG, NYLON (PA), FLEX, and many other plastics. The machine is able to monitor the supply of plastics into the extruder. Quiet, fast, and highly accurate.
Manufacturer: PICASO 3D, Russia.
Advantages: high accuracy, a large selection of materials, a double extruder, high heating temperatures.
Disadvantages: high price, designed for high-quality and expensive materials.
Price: 300,000 RUB.
3d Systems Chefjet Pro: smart pastry chef
It is a professional printer for confectioneries aimed at commercial use. It creates printed objects by building up layers of edible powders made of cocoa, sugar, caramel, and other products. 3d Systems Chefjet is intended for small businesses and can be useful in pastry shops, cafes, and restaurants.
The printer is based on 3DP technology. Tasks are loaded via Wi-Fi or a USB cable. The kit includes a recipe book.
Manufacturer: 3D Systems, the USA.
Advantages: takes up minimum space, color printing.
Disadvantages: high price.
Price: 330,000 RUB.
Formlabs Form 2: super-accuracy
One of the top stereolithography printers boasting a small size and the best possible set of functions. It is equipped with a modified laser. The device features a high speed and printing accuracy, similar to industrial printers. It applies SLA printing technology, works with photocurable resin, and refers to professional printers.
The minimum layer thickness of 0.025 mm allows users to produce complex and extremely detailed models in size from 1 cm. A stylish design of the closed body allows the printer to fit in a small living space, an office, or a working space. Form 2's hardware platform provides a rapidly growing library of materials and powerful software.
Manufacturer: Formlabs, the USA.
Advantages: usability, reliability, high printing accuracy.
Disadvantages: high price.
Price: 330,000 RUB.