Topografics – Personalized 3D-Printed Photographs
20.10.2013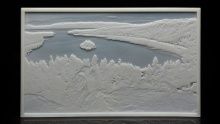 I try not to pre-judge, but these days, I see the words "Kickstarter Campaign" and my heart sinks just a little, as the words "another one" with lots of these !!!!!!!! run through my head. Well for the second time today I've been pleasantly surprised — and keen to participate!
This one is not live yet, it is due to go live next week, so there is no visibility on the funding goal or rewards as yet. That will all become clearer on 23rd October when the campaign will be launched, by Studio DTW, to coincide with the company's presence at the PDN Photoplus Expo in New York

So what are we talking about here? Well, it's really rather exciting — I SO want a piece of this. As far as I am aware, Dave White, owner of Studio DTW, is correct in his assertion that the new product, TOPOGRAFICS, is a "unique product that combines the worlds of photography and 3D printing."
I've never seen anything like it, and I will struggle to explain it in words with out making you go 'Huh?????' while no doubt pulling funny faces. So, take a look at the teaser video — it really says it all, and don't judge until the last couple of frames — then tell me what you think!

Studio DTW is a full service photography and digital imaging studio that specializes in creating dynamic images for use in multiple advertising and promotional applications. I can see them getting quite a lot of consumer interest from this though.
Аманда Гассай из Instructables в этом году также представила миру 3D фотографии. Сначала фото перевели в ч/б, затем на изображении были сделаны слои разной высоты.