Find out what business opportunities 3D printing reveals at 3D Print
05.10.2016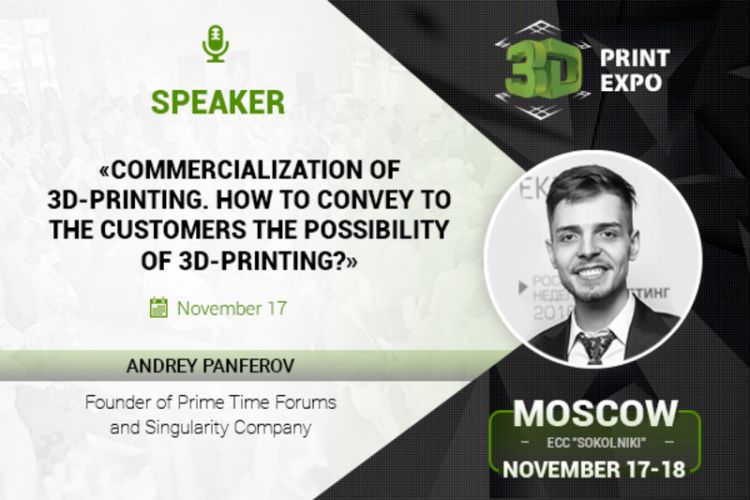 Additive technologies are the bright modern trend, revealing unlimited opportunities for business development and promotion. The main thing is to learn how to use existing 3D printing tools properly. Andrey Panferov will reveal know-how of 3D innovations application and new services promotion within his presentation at 3D Print Expo 2016.
The fourth 3D Print Expo will take place at Sokolniki ECC on 17-18 November. The best speakers from the largest companies, unique 3D developments, startup presentations, 3D Print Awards – the program of the next industry exhibition will be very rich and interesting for both successful businesspeople and beginning developers.
On the first day of 3D Print Expo event, Andrey Panferov will report on: Commercialization of 3D-printing. How to convey to the customers the possibility of 3D-Printing?
Presentation topics:
Identification of consumers' needs in 3D printing and search of business development opportunities.
3D printing as a product. What 3D printing services are reasonable to provide?
Positioning and image of the company focusing on 3D printing.
How to attract 3D printing orders.
Andrey Panferov is a founder of Prime Time Forums, organizer of such popular events as Russian Marketing Week, Russian Sales Week, and Russian Advertising Week. Besides, the specialist founded Singularity Company, providing education and consulting services for industrial organizations and businesspeople. The company works hand in glove with financial enterprises, organizations focusing on retail sales, as well as with cultural and government facilities.
In order to learn how to use 3D printing tools for business development properly and to find out what opportunities are currently available due to additive technologies, come to the annual international 3D Print Expo that will take place at Sokolniki ECC on 17-18 November. Pre-registration for the event: http://3d-expo.ru/en/register.