3D Print Expo photo zone to feature famous Girl with an Oar
19.09.2018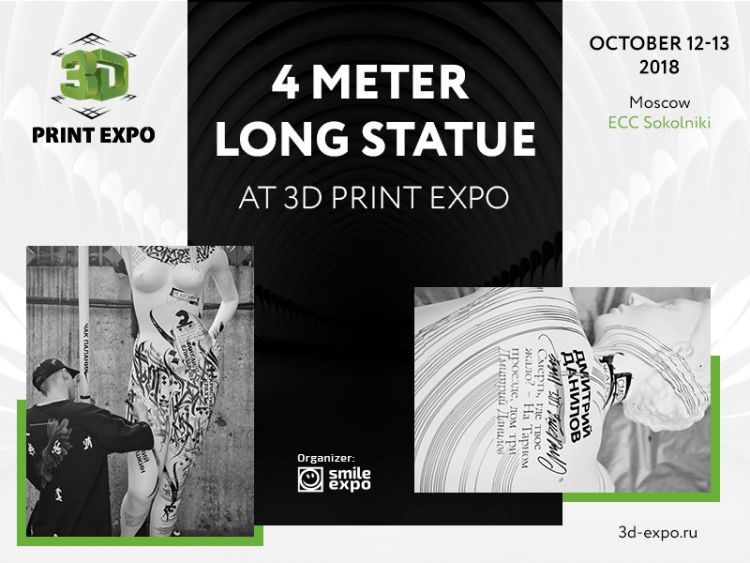 The photo zone of 3D Print Expo will feature 3D printed prototype of the famous sculpture Girl with an Oar. The installation was created for the 90th anniversary of Gorky Park by Temporum, the center of additive technologies. On October 12-13, it will be exhibited at the Moscow event dedicated to 3D printing, and each visitor will be able to take a picture with the sculpture.
The original Girl with an Oar, created by the sculptor Ivan Shadr is a symbol of the Soviet era. Before the German-Soviet War, it was located in Gorky Park, and today it is replaced by a sculpture, made with the help of 3D printing technologies. It was made in full size within a month: its height is 4 meters.
Later on, the Girl with an Oar was painted by street artist Arseniy Pyzhekov, known under the pseudonym Pokras Lampas. He painted a statue in the calligraffiti style: it has images of famous writers' works. Thanks to this fact, the sculpture was put on the cover of the August issue of the Esquire magazine.
The 3D sculpture creator is Temporum, which specializes in large-scale 3D printing and art objects production. The goal of the company is to popularize 3D technologies and introduce 3D printers into various production fields.
Don't miss a chance to make photo with the Girl with an Oar!