Visit fashion show of Russian first 3D designer!
13.06.2014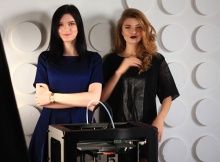 3D printing is conquering fashion! It made possible to establish new possibilities for design of unusual and wonderful clothing. You can learn about it on 24-25 of October, 2014, at 3D fashion show, as part of 3D Print Expo.
Today, high tech and haute couture is more integrated than ever. If previously 3D printers have been used for making small accessories, now a lot of people talk about 3D printing some fabrics. And this will merge three-dimensional technologies and fashion once and for all.
Paris catwalks, Hollywood carpets and European sports shops demonstrate real masterpieces of the design art: dresses, skirts, and shoes, created with a help of 3D printers.
And thanks to one charming girl and talented designer, Snezhana Gross, garments with 3D printing elements have become available to Russian women.
Snezhana Gross is the first 3D designer in Russia with IT diploma and developer experience. In her work, she explores western techniques and finds inspiration in literature, modern architecture, art and Japanese culture. After trying to make buttons using a 3D printer, she noticed a huge perspective for using 3D printing in design.
Designer creates not just extravagant and catwalk-only trimmings, but also practical wear designs for everyday use. From now on, Saint-Petersburg citizens can see women wearing clothes form marvelous collections of MAKE YA'SHOW, Snezhana's own brand.
You can see her pieces and other works of foreign designers who use 3D printing at 3D Print Expo, on 24-25 of August, 2014, form 3:00 PM till 5 PM.