Watch Me Fly: Razor Hobbies Successfully 3D Prints Full Aircraft Spinner
10.04.2014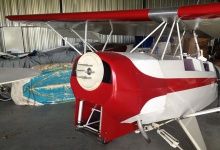 To our knowledge, Razor Hobbies LLC has manufactured the first fully 3D printed spinner for an aircraft. This astounding achievement proves the high stress endurance of 3D printed objects and takes the production standard to a new level. With such capabilities offered with the help of Shapeways, Razor Hobbies reveals the heights to which 3D printing may soar.
The test flight occurred on April 1st at 12pm in Baytown Municipal Airport. Previous to the test flight, the spinner endured extensive testing and a run up test and Flight Safety Test. Needless to say, it passed and continues to fly. Under such tests, the spinner becomes the first such 3DP airplane part to withstand high stress during flight and prove durable. Razor Hobbies responded to questions regarding its intention and purpose of a 3DP spinner.
"The backplate was printed at nearly 100% infill. We would have not allowed it to be flown if we were not sure that it was safe. It was tested extensively to make sure the safety of those involved would not be jeopardized. This test was not the intention to start manufacturing 3D printed spinners but to show what we can achieve with 3d printing."
Operating out of Baytown, TX, Razor Hobbies successfully tested the world's first 3DP Full Aircraft Spinner. The files are posted on Thingiverse. 3DP continues to prove its durability and application in real world environments under high stress and wear and tear. While Razor Hobbies admits it does not aim to replace traditionally manufactured spinners, it does raise the question: Why not?