Fedor Antonov from Anisoprint to Take Part in Discussion of CAE for Additive Technologies
27.08.2019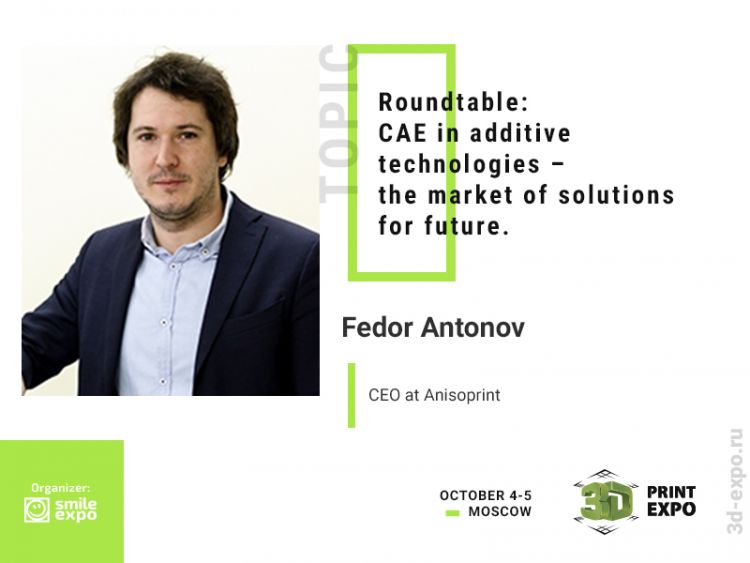 On October 5, 3D Print Expo will feature a roundtable dedicated to prospects of CAE solutions in the additive technologies industry. CEO of Anisoprint Fedor Antonov will participate in the expert discussion.
Fedor Antonov has a Ph.D. degree, is a specialist in structure optimization, modeling, composite materials, and 3D printing. He was a junior scientist at Moscow State University (MSU) and a senior scientist at SkolTech. He is a founder and head of Anisoprint, which developed a unique patented CFC technology and 3D printer Composer.
The startup specializes in 3D printing with multicomponent materials based on fiber-reinforced plastics. Anisoprint aims to develop and promote the new technology that will be in-demand in different manufacturing sectors including aerospace and machine building. The company works with MSU, Sibur, DuPont, LIST, Siemens, and Bosch.
Anisoprint's founder Fedor Antonov will share his opinion during the expert discussion of "CAE in additive technologies – the market of solutions for future", which will take place at 3D Print Expo on October 5 from 12:00 to 13:00. The roundtable will unite 3D print specialists of leading national companies.
---