3D Printing Production Will Reach New Heights – CEO at JER 3D PEN
30.08.2019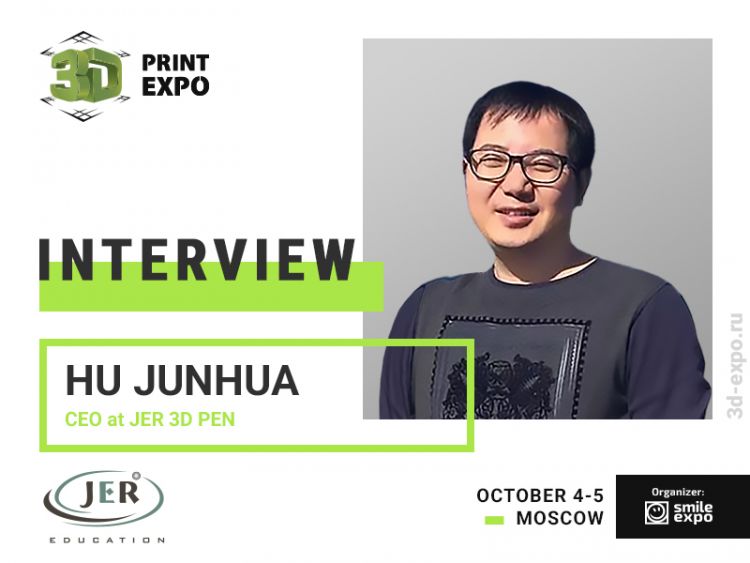 The seventh 3D Print Expo will feature a 3D printing workshop from the leading Chinese manufacturer – JER 3D PEN. How special and convenient are their products – find out in the interview with HU JUNHUA.
Jer Education Technology Co. is a Chinese company developing 3D printing products. JER 3D PEN is one of the most popular models of 3D pens in China and in the CIS countries. As of now, the company specialists are working on the fourth generation of devices.
The interviewer – 3D Print Expo (3DPE)
The respondent – HU JUNHUA (H.J.)
3DPE: Please tell us about the story of Jer Education Technology Co., Limited. Why did the company decide to enter the additive technologies market?
H.J.: JER Education Technology Co., Limited is the first and largest manufacturer of 3D printing pen in China since 2013. We have our own R&D team, we are offering OEM and ODM service to many customers, already cooperated with many clients in Europe and America. We have the smallest 3D pen RP900A and multi filament 3D pen MP01 in the world, and we also have a 3D food printer.
3D printing is getting more and more popular, it is a big market, that's why we got interested in this segment. The 3D printed manufacturing will grow in the future, additive technologies will be used in many sectors, including healthcare. So we will develop more and more new products to meet the clients' requirements.
---
3DPE: What kind of 3D printing devices does your company produce and sell? What countries have the biggest demand?
H.J.: We produce and sell 3D printing pens and 3D food printers. The largest demand is in Europe and the USA, we have most clients in these regions.
Currently we're focusing on two types of 3D pens: low temperature (involving a PCL filament) and high temperature (ABS or PLA filaments).
---
3DPE: What kind of materials are used for in your 3D pens and how special are they?
H.J.: Low temperature 3D pens need a PCL filament, have their advantages and are successfully used for the required purposes, for example, they are more safe for kids, as their nozzles are not hot. But PCL requires some skills to create a specific necessary form. Thus, they're good for discovering the technology in a safer mode.
High temperature 3D pens are more advanced, as they use ABS or PLA filaments, and the nozzle is hot. ABS or PLA plastic can be used to create a required design quickly. They provide a very nice 3D printing experience, it's almost like really drawing in the air.
---
3DPE: How does one choose a 3D pen? Are there some specific criteria?
H.J.: Usually the kids below 12 years of age are recommended to choose a low temperature 3D pen, it is safe to work with a none-hot nozzle. For everyone who is older, and those who have a 3D drawing experience, it's better to get a high temperature 3D pen, for the exciting experience!
Learning to draw with such a pen is quite simple, it's easy to operate, and users can improve their skills by applying the special stencils.
---
3DPE: What will you present at 3D Print Expo? What could we expect from the 3D pen drawing workshop?
H.J.: We will bring a 3D printing pen and a 3D food printer at the exhibition. Overall, there will be 8 models of 3D pens at the drawing workshop, and the attendees will see different 3D pens with different refills, and test their special advantages. Our expert will tell about their peculiarities and show how the pens operate.
So, we're excited for people to join us, to meet the visitors and answer their questions!
---